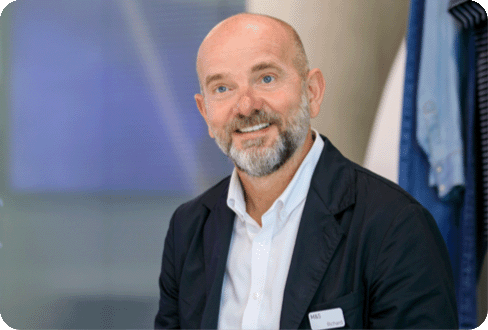 Department vision
Clothing and Home
"We're protecting the magic of M&S – understanding what customers know and love us for – and modernising product so we can be market leaders in even more categories. To ensure we make M&S a staple in all homes and wardrobes, we need the people to support that objective – new talent and fresh thinking is integral. We have some of the best talent in the business."
Richard Price, Managing Director - Clothing, Home & Beauty
Clothing & Home Product Graduate Scheme 2023
Clothing and Home Graduate Programmes: Product (Buying, Marketing and Dot.com) 
Start date: September 2023 
Legendary buyers start here
Do you want to learn how to source the best products, at the best prices, from all over the world? Want to find out how we market and sell our products? Then apply for our graduate programme in Product (Buying, Marketing and Dot.com) – because it's never too soon to think about your future legacy. 
On this programme, you'll work across all business areas and develop a deep-but-broad understanding of fashion retail. This is your opportunity to experience life as one of our talented Buyers.  
Day to day, you could be looking at upcoming trends to plan and buy new ranges, collaborating with the Marketing team to shape advertising campaigns and promotions, or working with our e-commerce arm, Dot.com, to ensure a great online experience while maximising sales. 
Across two years, you will rotate every 6 months into key business areas in Buying, Marketing and Dot.com. These rotations will give you a key insight into the smooth operation we run, while pushing you to explore your career growth. You'll work across our business, learning how to lead within all teams. You'll learn what it takes to scour the planet for the best products at the best prices. The final 6 months of the programme will give you the opportunity to select your final rotation in the area you want to specialise in. 
There are infinite routes you can take within Buying, Marketing and Dot.com – and no matter which route you choose, we'll support you through relevant experience, mentoring and guidance. 
For this programme, you'll ideally hold a Buying, Marketing or similar degree, with an interest in identifying customer trends. The talented people we're looking for will be confident, highly organised and comfortable working under pressure. Legends are motivated and have high standards – and these will be critical to your success. 
After the programme, you'll progress to an Assistant Buyer role or an equivalent position in Marketing or Dot.com.  
Please note this job is closed. You can sign up for a job alert below. 
Application Guidance
Legends seize the chance to use their strengths every day. That's why we're looking to see what makes you tick through the following assessment stages:
An online assessment taking approximately 45 minutes, focusing on your individual strengths
An on-demand video interview
A final assessment stage; either at an assessment centre attended alongside peers, or a final interview
We'll support anyone who requires reasonable adjustments to their application process – just let us know before the assessments start.
Some technical programmes may ask you to complete a short numerical reasoning test or a coding assessment. And most of our assessments are untimed, but we'll make you aware of any timed elements in advance.
As a tip, avoid overly rehearsing your responses, especially for your video interview. We want you to be bold, be different, and be you.
Our Benefits
Pay
Our salaries are competitive and reviewed every year
Colleague discount
Receive 20% discount in-store and online for you and a partner or family member
Holidays
Competitive holiday entitlement
Holiday buy
Reduce your salary to get extra holiday (conditions apply)
Bonus
We have discretionary bonus schemes depending on your role and our business performance
Pension
Save 3% of your pay into our Pension Saving Plan; we'll add 6% more
Life assurance
Cover for twice your salary up to age 70 (double with our Pension Plan)
Sharesave
Save £5 – £500 monthly for three years with the option to buy discounted shares
Sharebuy
Invest £10 - £150 monthly from your gross salary to buy M&S shares
My choices
Save on everyday costs, recognise colleagues' success, and discover your wellbeing support and benefits
Cycle to work
Bike/accessory hire with Cycle to Work, and save on tax and national insurance
SMART tech
Buy the latest technology with interest-free financing directly from your salary
Health & Wellbeing
Save on you and your family's health expenses, gym memberships and active wear
Mental health support
24/7 support from PAM Wellbeing, including free counselling, CBT and support for your family
Giving back
Support favourite charities - donate through your pay or even volunteer for them
Financial wellbeing
Information and support to help you manage your finances, from savings to money worries
Celebration time
An extra day off per year to celebrate something special to you
Virtual GP services
Free, unlimited access to a qualified GP for you and your family (UK colleagues)