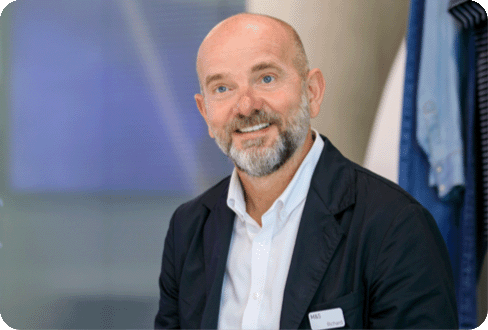 Department vision
Clothing and Home
"We're protecting the magic of M&S – understanding what customers know and love us for – and modernising product so we can be market leaders in even more categories. To ensure we make M&S a staple in all homes and wardrobes, we need the people to support that objective – new talent and fresh thinking is integral. We have some of the best talent in the business."
Richard Price, Managing Director - Clothing, Home & Beauty
Buying & Merchandising Apprenticeship Programme 2023
Monday to Friday, 9am – 5pm 
Legends of tomorrow learn from the best
Are you a legend in the making? Want to build your legacy now, straight out of school? Then join our Level 4 Buying and Merchandising Apprenticeship, developed in partnership with the Fashion Retail Academy.  
Become immersed within our Clothing & Home business as you work on real Buying and Merchandising projects from day one. This could mean developing new ranges, speaking to suppliers from across the world, contributing to our market success, learning from experienced colleagues, and utilising your creative and analytical abilities to turn ideas into reality. If you love to shop and know what customers want, you're already a step ahead.
On this apprenticeship, you'll analyse data, pinpoint the trends that drive sales, help to allocate stock, monitor and renew sales and stock levels, and provide general administrative support to the team – depending on your current rotation. It's a key opportunity within your career to harness your passion for retail and use it to drive results. 
Every six months, you'll move to a different area within Buying and Merchandising, giving you an in-depth understanding of how each team operates. And at least once a month, you'll have a training day at the Fashion Retail Academy and you will be working toward an accredited Level 4 Buying & Merchandising Apprenticeship.
Once qualified, you'll be all set to take on a merchandise admin assistant or buying admin assistant role. No matter where you want to take your varied career with us, this two-year apprenticeship gives you the experience, mentoring and guidance to succeed. 
Our legends are super-curious about pretty much everything, happy with numbers, great with detail, and have a good, intuitive feel for the commercial world. They're also excited about fashion, keen to learn and adapt in a fast-paced environment, and resilient if the going gets tough. If that's you, you could be a future legend, too. 
To join our legendary apprenticeship scheme, you'll need GCSEs in Maths (4-9/C-A*) and English (4-9/C-A*) and must not have completed a Level 4 qualification or above in Fashion Retail, Buying or Merchandising. You also need to have been resident in the United Kingdom for at least the previous three years before the start of the programme or have pre-settled or settled status under the EU Settlement Scheme.  
Please note this job is closed. Register your interest here
M&S is ready to push boundaries to lead the retail industry into a greener, speedier, more inspiring digital era. That's why we're revolutionising how we work and offering our most exciting opportunities yet. There's never been a better time to be part of our team. Marks & Spencer aims to be an inclusive organisation, trusted and admired by our colleagues, customers and suppliers. Join us and make an immediate impact.
We are committed to an active Inclusion, Diversity and Equal Opportunities Policy, which starts with our recruitment and selection process, and we are happy to talk flexible working.
If you consider yourself to require reasonable adjustments to any part of our recruitment process, we invite you to share those requirements with us when completing your application. We will make every effort to ensure your needs are met to provide a fair and transparent process of assessment.
Where I started
Today's graduate; tomorrow's legend. Many of our more senior colleagues and leaders started out in early careers positions. Some of whom follow a linear career path, many used their experiences and skills to move elsewhere in the business. Just know that you'll be supported to follow the path you choose to carve for yourself, whatever that may be.
An example of a career path within Buying/Merchandising could be:
Buying/Merchandising Admin Assistant
Buying/Merchandising Assistant
Assistant Buyer/Merchandiser
Head of Buying/Merchandising
Application Guidance
Legends seize the chance to use their strengths every day. That's why we're looking to see what makes you tick through the following assessment stages:
An online assessment taking approximately 45 minutes, focusing on your individual strengths
An on-demand video interview
A final assessment stage; either at an assessment centre attended alongside peers, or a final interview
We'll support anyone who requires reasonable adjustments to their application process – just let us know before the assessments start.
Some technical programmes may ask you to complete a short numerical reasoning test or a coding assessment. And most of our assessments are untimed, but we'll make you aware of any timed elements in advance.
As a tip, avoid overly rehearsing your responses, especially for your video interview. We want you to be bold, be different, and be you.
Our Benefits
Pay
Our salaries are competitive and reviewed every year
Colleague discount
Receive 20% discount in-store and online for you and a member of your household
Time off
Competitive holiday entitlement with the potential to buy extra holiday days.
Bonus
We have discretionary bonus schemes depending on your role and our business performance
Life assurance
Cover for twice your salary up to age 70 (double with our Pension Plan)
Workplace Savings
Helping you to save through our Pension Savings Plan, Share Buy and Sharesave schemes.
My choices
Save on everyday costs through discounts and offers and get access to great health benefits
Cycle to work
Bike/accessory hire with Cycle to Work, and save on tax and national insurance
SMART tech
Buy the latest technology with interest-free financing directly from your salary
Health and Wellbeing
Resources to support your wellbeing, including a free virtual GP service.
Giving back
Support favourite charities - donate through your pay or even volunteer for them