Customer Assistant - Hospitality - New Store Opening
Benefits
Pay
Our salaries are competitive and reviewed every year.
Colleague Discount
Receive 20% discount in-store and online for you and a partner or family member.
Holidays
Competitive holiday entitlement
Holiday Buy
You can reduce your salary in exchange for up to one contractual week of additional holiday, subject to eligibility and National Living Wage requirements.
Bonus
We have discretionary bonus schemes depending on the role that you do and the performance of our business.
Pension
If you save 3% of your pay into our Pension Saving Plan we will add an extra 6%. More details at www.yourmandspension.com
Life Assurance
Free cover of two times your annual salary up to age 70. If you pay into our Pension Saving Plan we double this to four times.
Sharesave
Allows you to save between £5 and £250 per month for three years with the option to buy shares at a 20% discount – or simply take your savings back.
Sharebuy
Invest between £10 and £180 each month from your gross salary to buy M&S shares and build up an investment.
My Choices
Save on everyday costs through discounts and offers and get access to our great benefits, such as discounted gym membership and health benefits. You can also recognise colleagues' successes too.
Cycle to Work
Hire a bike and accessories through Cycle to Work and save on tax and national insurance.
SmartTech
Buy the latest technology with interest free financing directly from your salary.
Health & Wellbeing
Save money on you and your families medical and dental expenses. Get great discounts on gym memberships, active wear, and health products.
Mental Health Support
Free 24/7 support from our expert health and wellbeing partners PAM Wellbeing - including free counselling and CBT as well as support for your family.
Giving Back
Support charities you care about the most by donating through your pay or even volunteer for them for one day.
Financial Wellbeing
Access to information and support to help you manage your finances from long term savings to managing your debt or money worries.
Celebration Time
Celebration time provides additional time off (up to one day per year) for a special occasion.
Virtual GP service
Free and unlimited access to a qualified GP for all UK colleagues and their families.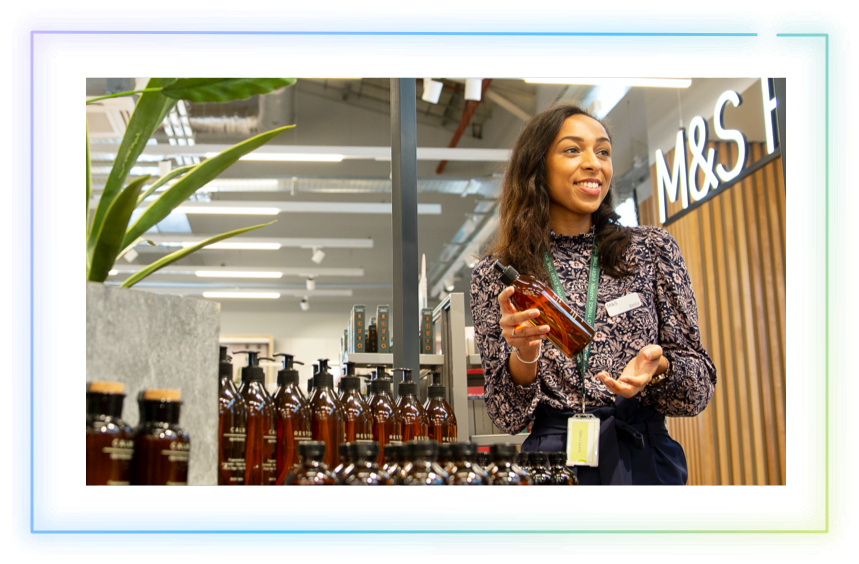 What we're

looking for

We're looking for the very best to shine within our stores. We need people who enjoy waking up every day and giving it their all. Leaders who inspire us through coaching and role modelling. And knowledgeable, passionate colleagues across every area, from bakery to denim.

You will need to be digitally savvy as well as a people person to work in our stores.

If you have the makings of an M&S professional, we'll find out where you stand out – and nurture a career at the pace you're after.
What to expect

with a new M&S store opening

Quite literally, our new stores are the future of M&S. These are stores with a new look and feel. A shopping experience with a fresh energy. This is an exciting opportunity to build local teams that represent our communities. We need amazing people to help us create an amazing experience for our customers. And rest assured whatever takes your fancy, we promise to give you the five-star training to get going.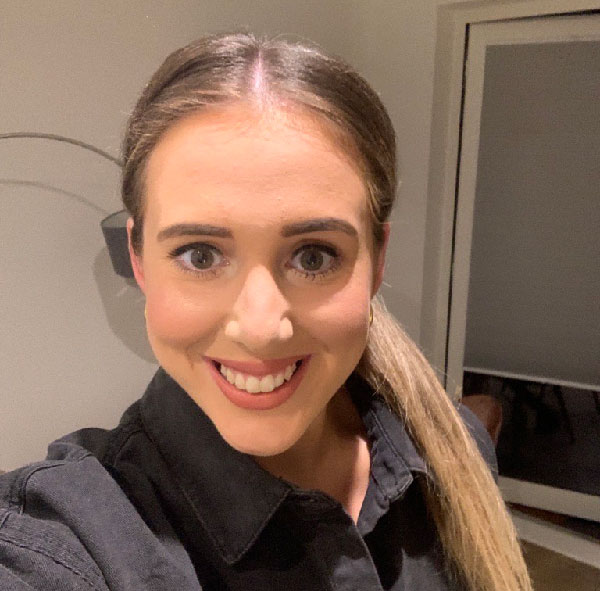 There's just so much to love about our new stores. From fill your own groceries, to chic denim zones, colleagues love the M&S makeover even more than our customers – and that's saying something!
– Dior Hudson, Store Manager
Career Path
Area Manager/Support Office
View more
Customer Assistant - Hospitality - New Store Opening
These roles are permanent positions varying from 16 - 37.5 Hours per week
Working Pattern
Includes both weekday and alternate weekend working
Shifts may include early starts from 07:00 am / late night finishes at 21:00 pm
Purpose 
To deliver a great shopping experience for their customers, putting customers before task every time 

Champion new ways of working within stores through an open mindset and positive attitude 

Complete tasks and processes that deliver 'best in town' standards 

Serve and sell across all channels brilliantly well 

Be the voice of our customer to help us continually improve 
Key Accountabilities 
Serve our customers efficiently and brilliantly well – on the shop floor and at service points 

Deliver 'best in town' standards through presentation standards, availability and keeping the store clean and tidy 

Skilled to utilise all digital tools and communication channels to do the job 

Share customer and colleague feedback to help us do things better 

Share knowledge and experience with colleagues to support others in building skill and confidence 

Own their own learning & development and proactively access digital learning solutions

Know the daily sales targets, priorities, promotions & selling opportunities

Have great product knowledge to sell and recommend our products and services 

Proactively engage with customers to understand their needs and make recommendations 

Understand the store priorities and their part to play 

Complete tasks with pace and in line with SOPs 

Minimise cost and waste through good process practice 

Follow safe and legal working practices 
Key Capabilities 
Understands how M&S operates, its strategy, future, and the role they play  

Committed to delivering excellent work fast with great attention to detail 

Open to and acts on feedback, asking for this regularly 

Sets performance objectives for self in conjunction with line manager and in line with business plans 

Takes accountability for planning and managing own work efficiently to ensure objectives are met 

Is curious and asks questions to challenge the status quo – ask why the company does things the way it does things 

Effective at communicating their intentions to others; ensures communication is clear and simple 

In control of their own reactions and considers how to share their perspective to create better reaction for team 

Copes well with change and work challenges and recovers quickly from its impact 

Builds positive relationships by being a good listener and getting to know people by establishing a connection 
Technical Skills/ Experience 
Contributing to store sales and cost control 

Work across the store to get things done right first time within timescales 

Comprehensive knowledge of customer shopping channels 

Good level of product knowledge and services across the store 

Up to date knowledge of the commercial operation and brilliant basics 

Good level of digital capability and use of digital tools and applications 

Understand customer needs and spot selling opportunities 

Adapting to change 

Good Knowledge of VM principles 
Key Relationships and Stakeholders 
Customers 

Colleagues 

Store Leadership 

BIG
M&S is ready to push boundaries to lead the retail industry into a greener, speedier, more inspiring digital era. That's why we're revolutionising how we work and offering our most exciting opportunities yet. There's never been a better time to be part of our team. Marks & Spencer aims to be an inclusive organisation, trusted and admired by our colleagues, customers and suppliers. Join us and make an immediate impact.
We are committed to an active Inclusion, Diversity and Equal Opportunities Policy, which starts with our recruitment and selection process, and we are happy to talk flexible working.
If you consider yourself to require reasonable adjustments to any part of our recruitment process, we invite you to share those requirements with us when completing your application. We will make every effort to ensure your needs are met to provide a fair and transparent process of assessment.
Leeds, WEST YORKSHIRE, ENGLAND;
Leeds White Rose
M&S Content
selected for you
Our amazing colleagues span many walks of life - all with some brilliant stories to tell. Here are just some we think you'll want to look at.
View More

There's no such thing as one-size-fits-all at M&S. Our new Worklife policy builds flexibility into a career in-store giving you the opportunity to discuss a working pattern that works for you and our business. Learn more and register your interest today.
Read More