24th November 2020
Celebrating our talented colleagues this Women in Data Week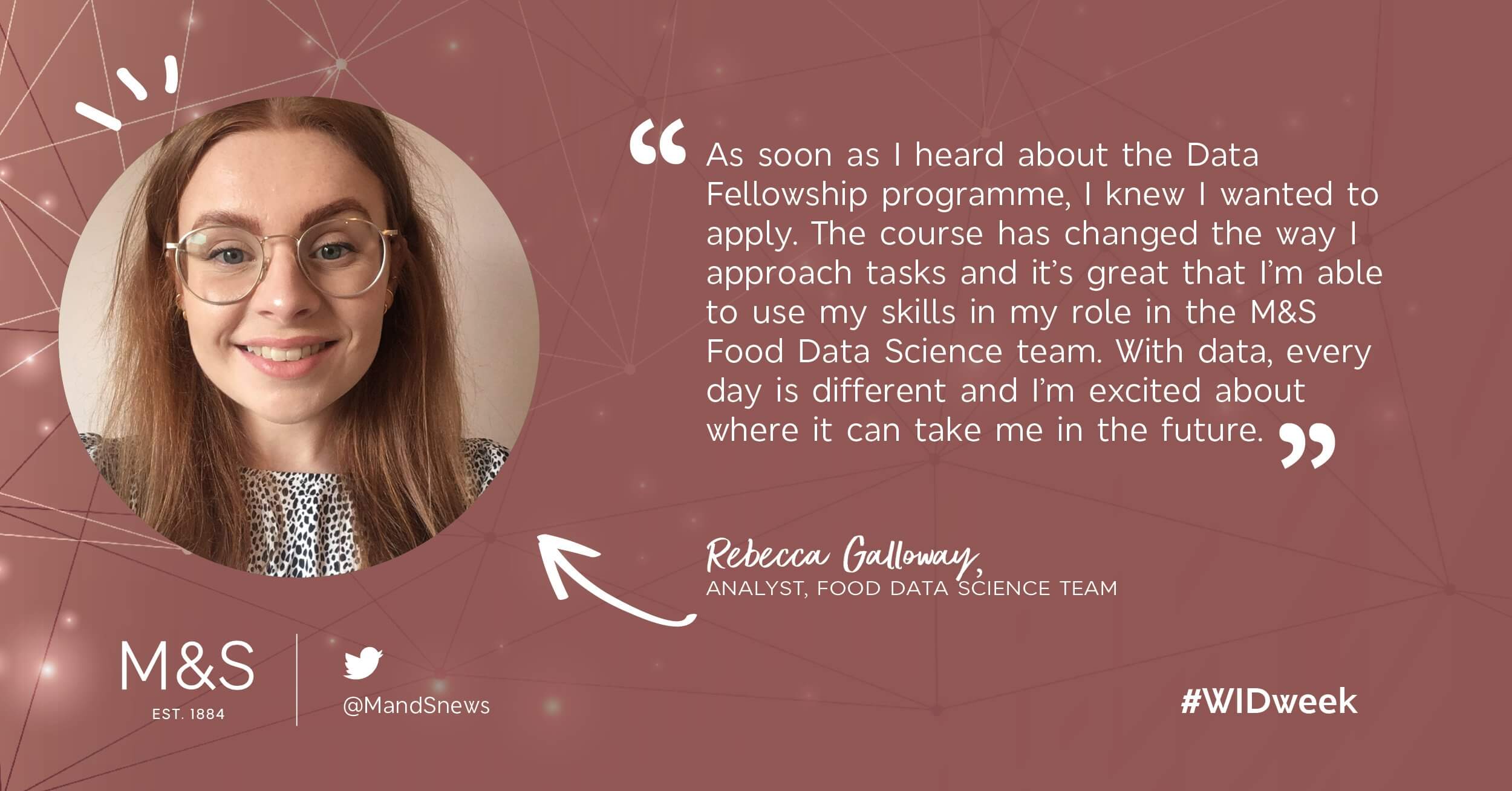 Harnessing data is crucial to our transformation here at M&S, but we know it's not enough to just make data a part of our decision making - we need diverse colleagues to help fuel that transformation.
This week, we're joining our partner Women in Data in celebrating WiD week, a recognition of the amazing talent making waves in an industry that sees men outnumber women by 3 to 1.
We are proud that women make up 43% of our data talent at M&S, but there is always work to do to achieve parity and we will continue to drive this agenda forward via our inclusive hiring processes and our exciting learning and development programmes created for our colleagues.
From the self-directed learning resources of our BEAM Academy, to our 18 month Decoded Data Fellowship through to our recent Digi-Fest where over 2,000 colleagues took part in discussions with our Chief Digital Officer, Jeremy Pee and Chief strategy and Transformation Director, Katie Bickerstaffe about our Digital First strategy. Our work is underway, and we're making sure we've got a diverse team of colleagues in the driving seat.
Last year our very own Angela Lillis, Data Insight Manager was recognised as part of the prestigious Twenty in Data & Technology by Women in Data; an accolade which saw her featured on billboards up and down the country driving greater representation for women across the industry; and this year, our Head of Data, Suzanne Howse will be on the judging panel of this very award.
A Rising Star in Data
One colleague who has really harnessed opportunities within Data in M&S is Analyst Rebecca Galloway.
Having joined us on the Logistics and Supply Chain Graduate Scheme in 2017 after graduating from The University of Edinburgh with a MEng (Hons) in Mechanical Engineering, Rebecca was asked to join our new Food Science Data Team via her mentor, Head of Data Suzanne Howse who recognised her knowledge and passion for retail and her excellent quantitative and analytical skills.
Selected for the Decoded Data Fellowship, Rebecca is now a very active member of the Women in Data committee at M&S and has numerous impressive projects under her belt including leading an analytical project reviewing our in-store reductions process through to development of a tool which allows M&S to design robust trials to clearly show the effects of interventions. We are very proud that Rebecca has now been recognised as a Rising Star in the Target Job National Graduate Recruitment awards.
Interested in a Data career?
Data is such a priority for M&S, and colleagues who join our team have the opportunity to make a real impact on the business via their work. With roles embedded into our different business areas, you could find yourself in working within any of our business functions including; Food, Clothing and Home, Fashion, Marketing, Loyalty, Supply Chain, Growth, Customer Services amongst many others.
If you champion a culture of data-driven decision making, are full of ambition, constantly looking at ways to improve the way we do things and are a role model for digital behaviours - we want to hear from you.
Explore our Digital and Data opportunities today.