Engineer a fascinating career at M&S Tech. Upgrade to M&OS.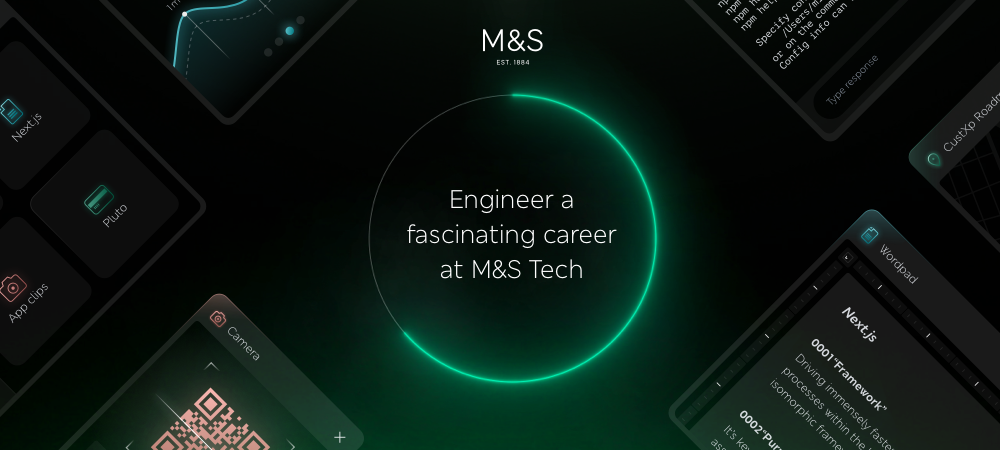 M&S Tech is transforming us with an innovation, creativity and pace that may surprise you. This is M&OS – our ongoing, ever-evolving vision to create a digital-first business. Here, we mean it when we say, you not only have the opportunity to advance M&S through software engineering, but to advance software engineering through M&S.
"At M&S Tech, we're working to establish ourselves as a destination for the very best tech practitioners around. Our team is based on the principles of creative thinking, innovation, and above all, trying something different - and that's what our bespoke M&OS site is all about. With the creation of these 70 new roles, combined with our existing pool of tech talent, we're putting responsibility for our digital transformation in the hands of some seriously inspiring software engineers. I'm really excited for the future of M&S Tech." Mike Yorwerth, CTO
Reinvent our business, revolutionise an industry
It's an exciting time to join this amazing group of ambitious software engineers, inspiring leaders and diverse professionals we've assembled. We're in the process of revolutionising retail, developing our own in-house technologies, and creating the customer experiences of the future, online and in-store. We're determined to push everything from machine learning to our tech stack to their full, unrestricted potential.
We're offering a rare gem in career satisfaction. Empowered engineering in every sense – real autonomy, complex skills development and visible, progressive impact. We aren't just setting out to change retail forever; we're investing in becoming a recognised, data-driven leader to rival any digital consumer services provider, anywhere.
We want customers to love our technology as much as they enjoy our products. As for the kinds of products you'll be building, they'll make a real difference to thousands, if not millions of people daily.
Curious about what it is we're up to exactly? Do what we do. Act on your curiosity and dig deeper into M&OS now. Find out more here.