19th June 2020
Unlocking Value Via Our Charity Data Dive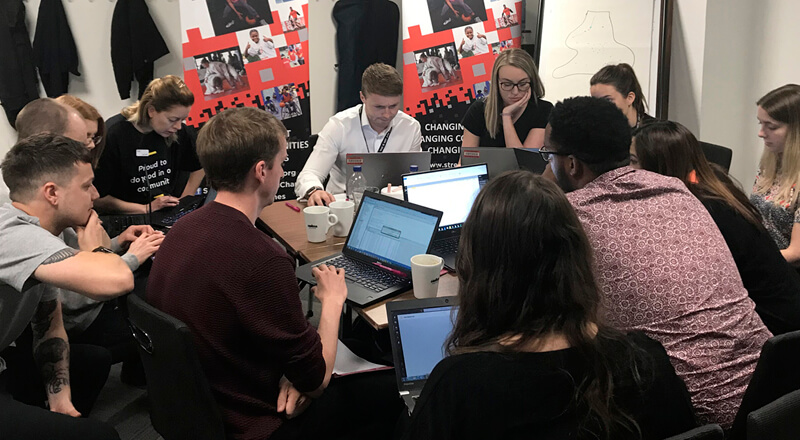 Our data teams here at M&S are always working on exciting, innovative projects as they continue to turbocharge our digital transformation - and we've made sure we have the very best talent to do this!
But many charities are not so fortunate. Without the expertise and resource to utilise their wealth of data, opportunities can go amiss - which is why as part of our Plan A programme, we started our Charity Data Dives.
Now in their 6th year, past events have seen us building a donor database for one charity, identifying a £900,000 funding opportunity for another and a predictive analytics model that would identify the support sufferers would need over coming months based on an analysis of their phone call language.
This month our team will be offering their time to help one of our key charity partners, Shelter, by advising how they can best use their data to deliver value back to the charity.
As our Digital & Data Academy Lead, Conor is passionate about the benefits this event will not only bring the charity, but the opportunities it will offer to our analysts to learn and practice new skills.
"Our teams are really passionate about giving back through data. Shelter are involved from the outset, so they gain not only from the results of the data dive but by going through the process with us. It's a great opportunity for our colleagues to apply and build their skillset, and we have several colleagues participating as part of our 18-month Data Fellowship program too. This will be our first ever fully virtual data dive, and we plan to host a second event later in the year to help even more charities."
Data is such a priority for M&S, and colleagues who join our team have the opportunity to make a real impact on the business via their work, and thanks to this fantastic initiative their impact can be made across organisations and the causes that matter to them.
*Photo above taken pre covid-19 social distancing requirements.