28th April 2021
How to step up and become a successful Section Manager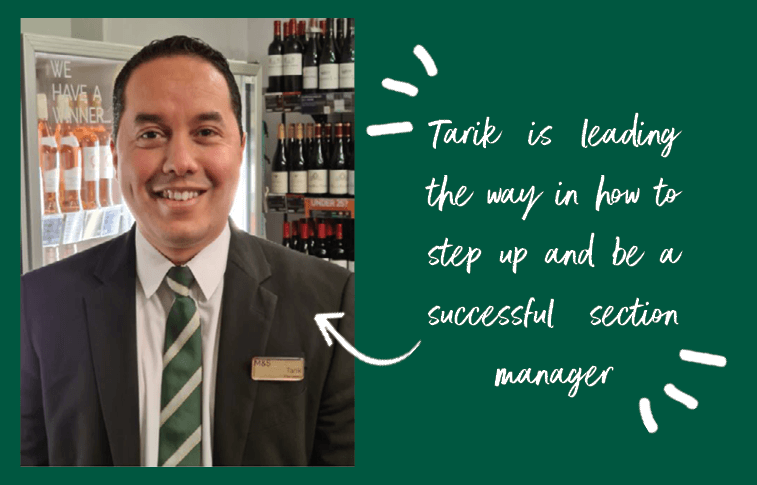 It's pure passion that enabled Tarik to go from Sales Advisor to Section Manager in our Foodhall. He joined M&S in 2006, but he says it feels like only yesterday, because there's always something new to run towards. And bringing that level of optimism into his store has influenced the opportunities offered to him.
"Time flies when you're having fun. I enjoyed myself as a Sales Advisor, but I knew I had more to offer. M&S is well-known for helping the individuals who want to improve themselves and have more input in the success of the business. So, I joined the company's A to B programme and that gave me more confidence in myself."
Leading by example
Managing your own section in store is similar to running your own business. Tarik gives it his absolute all in order build a hyper-productive team that hits sales targets and surprises our customers. No task is too big or too small for him to handle and show his team how M&S intends to be a market leader.
"I train my staff to provide customers with the 'wow' factor that sets us apart from other retailers. Each day, I get the shop in shape for our customers. With the help of my colleagues, I make sure shelves are stocked, standards are always delivered and inspire my team to strive for every customer's satisfaction, day in, day out."
Interested in inspiring your own team to amaze our customers?
There's never been a more thrilling time to join M&S. Retail is evolving rapidly, but we have the right talent and insights to adapt to constantly changing markets and customer trends. If you're a genuine lover of M&S products and care about crafting new customer experiences, you may have what it takes to be a Section Manager like Tarik.
"The pace is fast in our business, but M&S supports you with the tools you need to excite the customers. This job is ideal for highly motivated individuals that want to better themselves in customer service, perfect our standards and take ownership of their goals."
Explore opportunities to become a Section Manager.