14th August 2019
Styling With Personality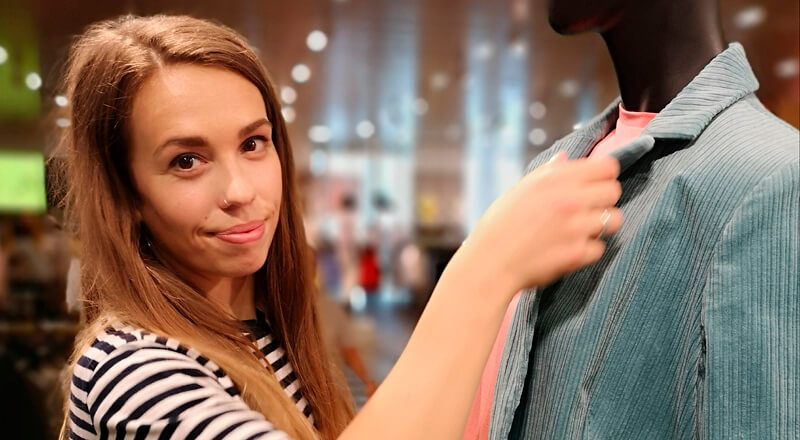 Shoppers have never had it so good when it comes to choice on the high street. But our customers don't just buy with their eyes. They buy from shops that spark their imagination, and make them feel good. This is why we pull out the stops to capture more than a customer's attention.
Our Visual Stylists are the creative colleagues that make personality-filled displays, designed to excite customers and sway them to try new products. And this means showing them something fresh, perhaps even something they hadn't expected to see at M&S.
Fleur and Alika know how to create vibrant displays that introduce new products to our customers, and how to paint a picture of how clothing could be styled, or how homeware could be put together. Both Fleur and Alika come from mainstream retail backgrounds. Both are hugely influenced by trends around them. Says Fleur:
"I really love street style. The people that I walk past around London have lots of different looks and influences. We have some really fashionable denim pieces, especially love our high-rise wide leg jeans."
Alika explains how she's encouraged to bring her inspiration to life:
"Being trusted and having creative freedom is important to me. I get that here. The job is especially fun and rewarding when you have an energetic and positive supportive team. I'm responsible for dressing the windows. The internal ones, especially, give me the chance to create my own visual displays."
For Fleur, her role is very much about 'being proactive. Owning it and getting the job done.'
These roles are about bringing personal artistry to a large audience to create buzz and interest around our exciting new products. We're all about the individual at M&S. Fleur and Alika are living, working proof that each colleague's unique personality plays an important role in each of our stores.