3rd February 2020
Marks & Spencer Proudly Moves Up on the Stonewall Workplace Equality Index 2020
Celebrating and appreciating our colleague's differences is what makes M&S such a great place to work, which is why we are really proud that M&S has moved up the rankings on the Stonewall UK Workplace Equality Index 2020 (WEI), the definitive benchmarking tool for employers to measure their progress on LGBT inclusion in the workplace.

To place on the index, each year M&S has demonstrated to Stonewall our work in 10 areas of employment policy and practice. Colleagues from across the organisation have also completed an anonymous survey about their experiences of diversity and inclusion at work.

Year on year, we've seen amazing jumps in our rankings (this year we have moved from 220th place to 123rd) and confidently believe we will continue to see it get better and better.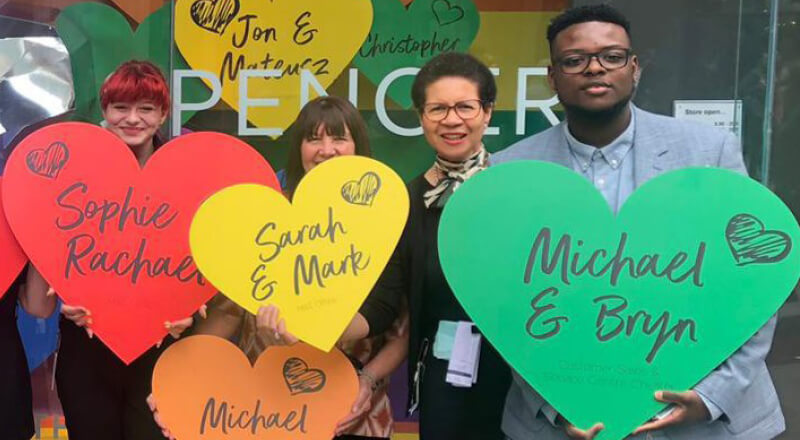 Year-round support and inclusion

Ensuring our colleagues experience a supportive, diverse, inclusive, safe, healthy, and respectful working environment is key to our business, which is why we will always aim to improve our policies and practice. Thanks to our fantastic LGBTQ+ internal network, our colleagues are a huge part of that - using their passion and energy to shape the future of LGBTQ+ inclusion within the business.

Celebrating our colleagues at M&S

We enjoyed an amazing Pride last year, especially because the number of colleagues who got involved grew massively compared to previous years.
We saw sixteen of our stores featuring Pride window displays centred around our colleagues and their loved ones, our Waterside support centre had a colourful makeover, our Style & Living site shared colleagues' stories about what Pride meant to them, and during Pride Month, we shared daily updates internally looking back on our achievements.

Alongside this, M&S donated £20,000 to akt the national LGBTQ+ Youth Homelessness charity and €1000 to BeLonG To Youth Services for LGBTI+ young people in Ireland. This amount forms part of M&S's wider community donations, which last year exceeded £13.6m.