6th February 2020
So Many Doors Have Been Opened That University May Not Have Allowed In The Same Way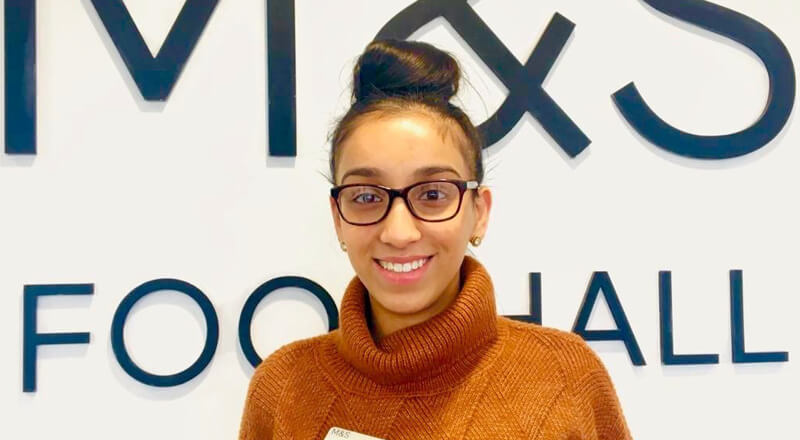 When you start an Apprenticeship at M&S, you don't just learn on the job, you also receive formal coaching and training that will give you the skills to stand you in good stead for the rest of your career.
When Karam joined the scheme, she knew straight from the outset that she would get out exactly what she put in.
"The apprenticeship allowed me to experience a huge range of environments from Simply Food stores to our largest formats in the business. I was encouraged from the start to 'be a sponge' and absorb everything I observed as a fresh pair of eyes that would essentially mould me into the leader I strived to be at the end of the 18 months."
"It was super fulfilling knowing that whilst I might've not had as much experience as my peers, my ideas were always listened to, valued and respected which is a great confidence booster and reassured me the businesses believed in new talent."
M&S Apprenticeships help you find your true passion
M&S knows that the future of the business depends on bigger thinking and fresh talent - which is why throughout any of our apprenticeships you get the opportunity to experience a breadth of business areas ensuring your experience is varied and your career development options remain open. Karam, who is now a Store Manager at our Simply Foods in Wheatley, was supported throughout her journey which helped her discover her real passion.
"From Visual Merchandising, Food, Clothing and Operational attachments all over the estate, the broad scope of environments gave me some great experiences. For me, my passion lies within our Food business because it really encompasses the speed, energy and pace of our transformation. I was able to share my development journey with stakeholders who took all this into account and appointed me into my first appointment as Store Manager in one of our large Simply Food stores."
"The programme has definitely given me a path to start a journey where although I'm unsure of where it will take me, so many doors have been opened that university may not have allowed in the same way."
Nothing is impossible via an Apprenticeship at M&S
"I anticipated lots of hierarchy before joining M&S but couldn't have been more wrong. The breadth of the teams and experiences I've been able to tap into has been fantastic. Coaching from management teams in some of our biggest Foodhalls, to being given the opportunity to walk with senior visitors; the apprenticeship is exactly that…making the impossible possible. It's all for the taking as long as you accept that what you put in is what you'll get out."
Interested in learning more about the exciting Apprenticeship opportunities at M&S? Take a look here.