23rd October 2020
Selling M&S Food to the world is all in a days work for Adam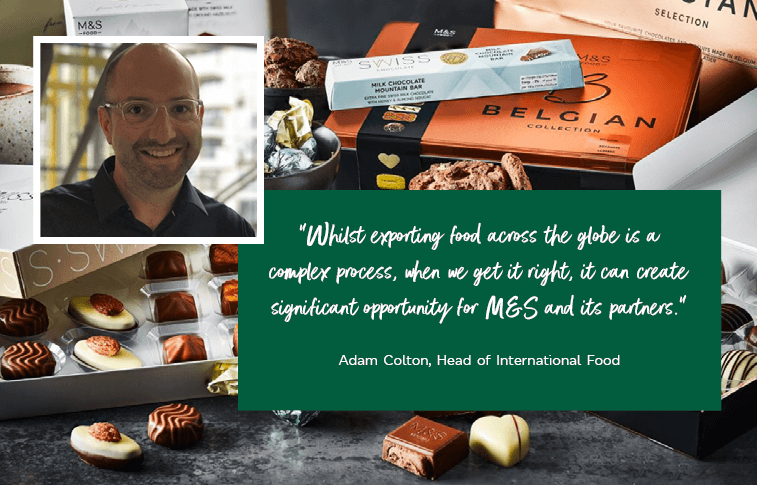 Serving up the very best of M&S food to the world? Sounds like an exciting challenge! And it's one which Adam, Head of International Foods has enjoyed taking on following a really varied career path within the business.
Since joining the M&S family as a graduate trainee in-store, Adam has developed a breadth of skills and experience via roles including - Commercial Manager, Menswear Merchandiser, Head of Merchandising for a new joint venture in India, MD for the Greece and Balkans, Head of Property focusing on new store openings in UK and International, and the Managing Director of Greater China. Following his return to the UK as Head of Central Operations, Adam then took on his current position which puts him at the forefront of our international growth strategy for M&S foods.
"As the Head of International Food – along with a team of circa 30 people, we are responsible for the development, trading, systems and supply chain that runs our food business in c 20 countries across the world – It's a hugely varied role where no 2 days are the same! I have the opportunity to lead this part of the business at a really exciting time. M&S food is in huge demand and whilst exporting food across the globe is a complex process, when we get it right, it can create significant opportunity for M&S and its partners."
"I get my greatest satisfaction from leading teams. When you work in retail ultimately you are looking to grow your business in both sales and profit. Over the years I have worked with many great teams - from product teams in menswear to leading entire businesses with 1000 + people in many of which we have delivered great results."
Adam has certainly crafted a career without borders, and as we continue to grow our presence throughout the world; not only physically, but virtually - with digital capabilities and online presence a large part of our growth strategy – our food and clothing and home will be able to be enjoyed by an increasing, more diverse worldwide customer base.
So what is the key to success in bringing our much-loved British products to the world's stage? And what sort of challenges has it brought for Adam in his role?
"Working with different partners and businesses is what makes International at M&S so fascinating. To succeed on our team you need to understand different business/trading models, have a passion for product, be an innovative thinker and a constant desire to make complex processes simpler! Ultimately it's about creating a vision and a clarity that enables people to understand their part to play and building great international partnerships to do so."
"Covid-19 is creating significant challenges and opportunities for us. In some markets we are seeing significant growth, whilst others decline, and we never know what might be coming next. Brexit is certainly bringing a number of new challenges, but fantastic opportunities are always opening up, like the newly developed food products introduced as part of our Ocado joint venture."
Sounds like the opportunity to get seriously entrepreneurial!
"I have worked with many different businesses, people and cultures across the world – however we have always had the same objective – give the customer what they want, sell as much of it as you can and enjoy doing it! Working in a business like ours is all about the people – it's a true team experience and if you want the autonomy, accountability and opportunities to try new things, International at M&S is a great place to be."
Looking for a career without borders like Head of International Foods' Adam? Explore our current opportunities or why not join our Talent Community?