4th December 2019
M&S Lead the Way In Prestigious Women In Data List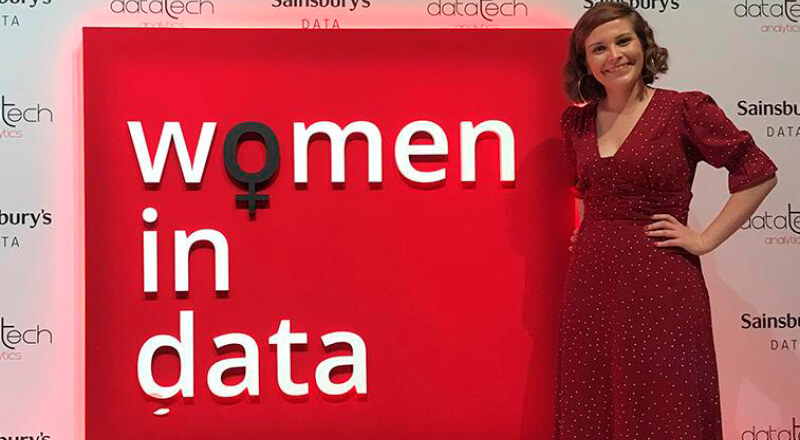 As part of our ambition to become a digital-first retailer, we know it's not enough to just make data a part of our decision making. We need diverse colleagues to help fuel that transformation. Which is why we partnered with Women in Data, an organisation that's redressing the balance by driving greater representation for women across the industry. Because when women are outnumbered by almost 3 to 1 in the data community, you know there's work to be done.
The annual Women in Data event celebrates leading women from the world of data and technology. Part of that is the prestigious Twenty in Data & Technology, a list of role models who'll serve as lifelong ambassadors, inspiring even more women to join the industry.
That's why we were so thrilled when our very own Angela, Clothing & Home Data Insight Manager, became the only woman in retail to be recognised. Angela's nomination is thanks to her hard work as part of the ever-growing Data Community at M&S which is at the heart of our own transformation. Here's what Angela had to say:
"It feels fantastic to be recognised in the UK Data and Technology community, alongside 19 other brilliant women and to be representing retail where data is only growing in importance. It's impossible to aspire to be something you can't see and that's what the Women in Data movement is all about - changing the perception of the data industry and encouraging women to truly consider it as a career. I'm looking forward to sharing my passion for data with others and I'm proud that M&S is championing the movement by partnering with Women in Data."
It doesn't just end with Women in Data though. Our Digital team also works with Code First: Girls to provide a free 8-week course that teaches local women the basics of coding. Whilst M&S is ahead of the curve with 43% of women in data roles, there's still a way to go. "We have more work to do to make sure our teams reflect our customer base and the population at large, to get broader views and voices contributing to our work and transformation."