15th March 2022
Meet Travis, our Talent Attraction Content Coordinator, whose stint in our Salford Quays Support Office led to him bagging his dream job!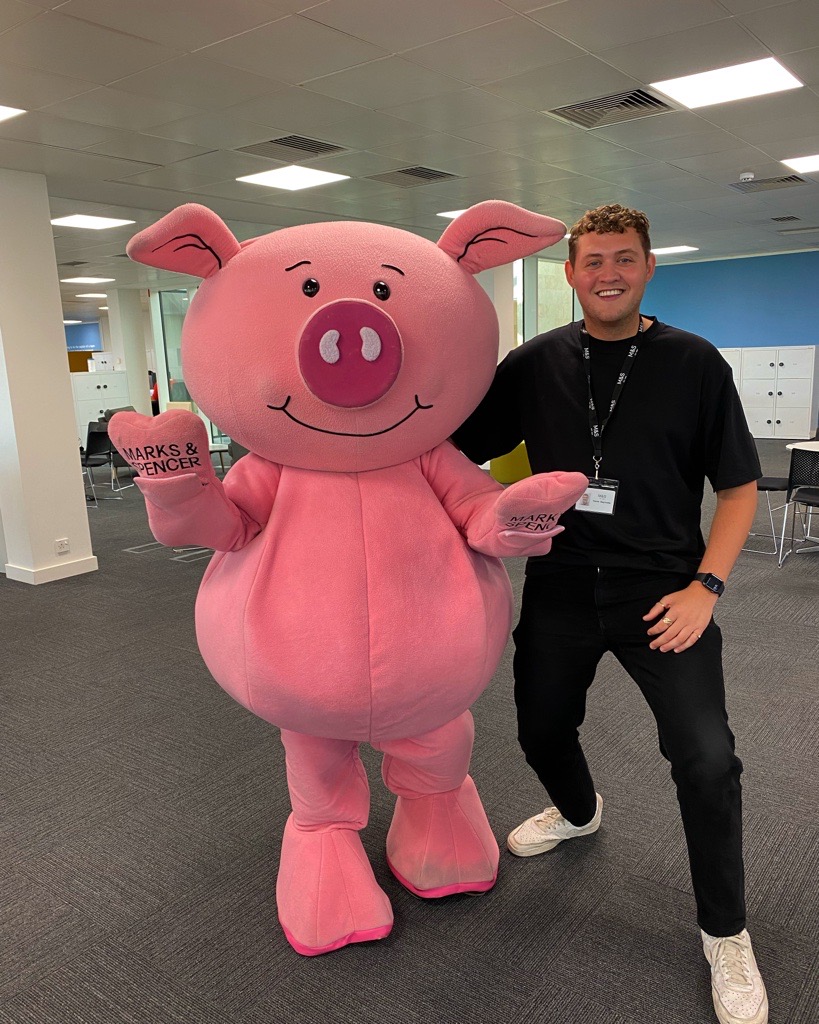 Our Colleague Services team in our Salford Quays Support Office is vital to the day-to-day, both behind the scenes and front-line operating functions of our business. Pivotal in all aspects of Human Resources, and at the heart of our People Strategy, the centre is equipped with the skills and tools to manage queries and processes from our Stores, Support Offices and Logistics Centres across the UK. Without it, our business would simply not be able to operate. It's a crucial piece of our story, and makes a huge contribution to making M&S the place it is today.
Our Talent Attraction Content Coordinator Travis joined M&S in October 2019 on a new Digital team within Colleague Services as a Digital Channel Advisor. He helped lead a new HR Chatbot pilot, engaging with Stores across the business to gather feedback, analysing its responses and updating them accordingly to be on brand, ensuring a successful colleague experience. He also supported in the community management of our careers socials.
"After graduating in Digital Journalism in 2018, I worked in one of the Booking.com call centres, which really opened my eyes to a career in an international business. But I was ready for more, and fortunately was contacted by one of our recruiters on LinkedIn to be notified of the role - I decided instantly I was going to apply!
I remember receiving the call I'd got the job, and crying! I was absolutely elated. I've always loved M&S and their products, and was keen to get stuck in on a new team.
I'd had plenty of experience, but never in HR before, so at first I was nervous to join, as I wanted to make a good impression. My induction really put me at ease though, and the support I received from my Line Manager was second-to-none. Colleague Services was an incredible place to start my career at M&S. Working in various teams within the centre, I got to know the ins and outs of almost everything HR related."
Opening Doors
Due to the nature of the way Colleague Services operate, the teams are constantly in connection with colleagues throughout the business. This often leads to development opportunities and collaborative work, and in some cases, like Travis', the chance to start a new career in a different Business Area.
"In my Colleague Services role as part of the social media community management, we had regular meetings with the Brand & Attraction team who own the M&S careers channels. As soon as I spotted a new role created in their team, I applied. As M&S have taken a new approach to hybrid working since COVID-19, I was lucky enough to secure the role, even in a different city to my team!
My current role consists of supporting with recruitment campaigns, producing creative assets, writing copy/colleague stories, and helping manage the M&S Careers social media pages, Instagram, Twitter, Facebook and LinkedIn. I absolutely LOVE my job, it's so nice that my degree is entirely relatable to my role too!
One of the great things about M&S is that once you've got your foot in the door, there's an abundance of opportunities for you to get involved in. I'm confident in saying that joining within Colleague Services gave me the best possible start to my career at M&S."
Benefits and Rewards
Our People Plan is at the heart of our strategy, because we can only make the everyday remarkable if we have remarkable people who are valued and supported to be their best and have their voice heard. We offer an abundance of Reward and Wellbeing benefits to all our colleagues, and Travis has really appreciated some of the things we have on offer.
"Throughout COVID-19, I struggled with my mental health. Me and my boyfriend moved into a new flat just before lockdown to be closer to the office, and never actually went into the office while we lived there due to the restrictions in place.
At the time, I spoke to a doctor but the NHS were understandably swamped and overwhelmed, so it wasn't looking likely that I'd get to speak to someone about how I was feeling. I had a chat with my Line Manager, who recommended giving M&S' Wellbeing Partner Pam Assist a call, and I was able to speak to a counsellor within minutes.
It's absolutely incredible that M&S offer so many benefits for their colleagues, and I'm so grateful that I've been working for a business that really cares about their colleagues, even outside of the workplace!"
Thinking of Applying?
If you're thinking about a career at M&S, our Salford Quays Support Office is the perfect place to start, and we've got plenty of Human Resources roles available here.