11th March 2021
Meet supermum and superstar Store Manager Sammy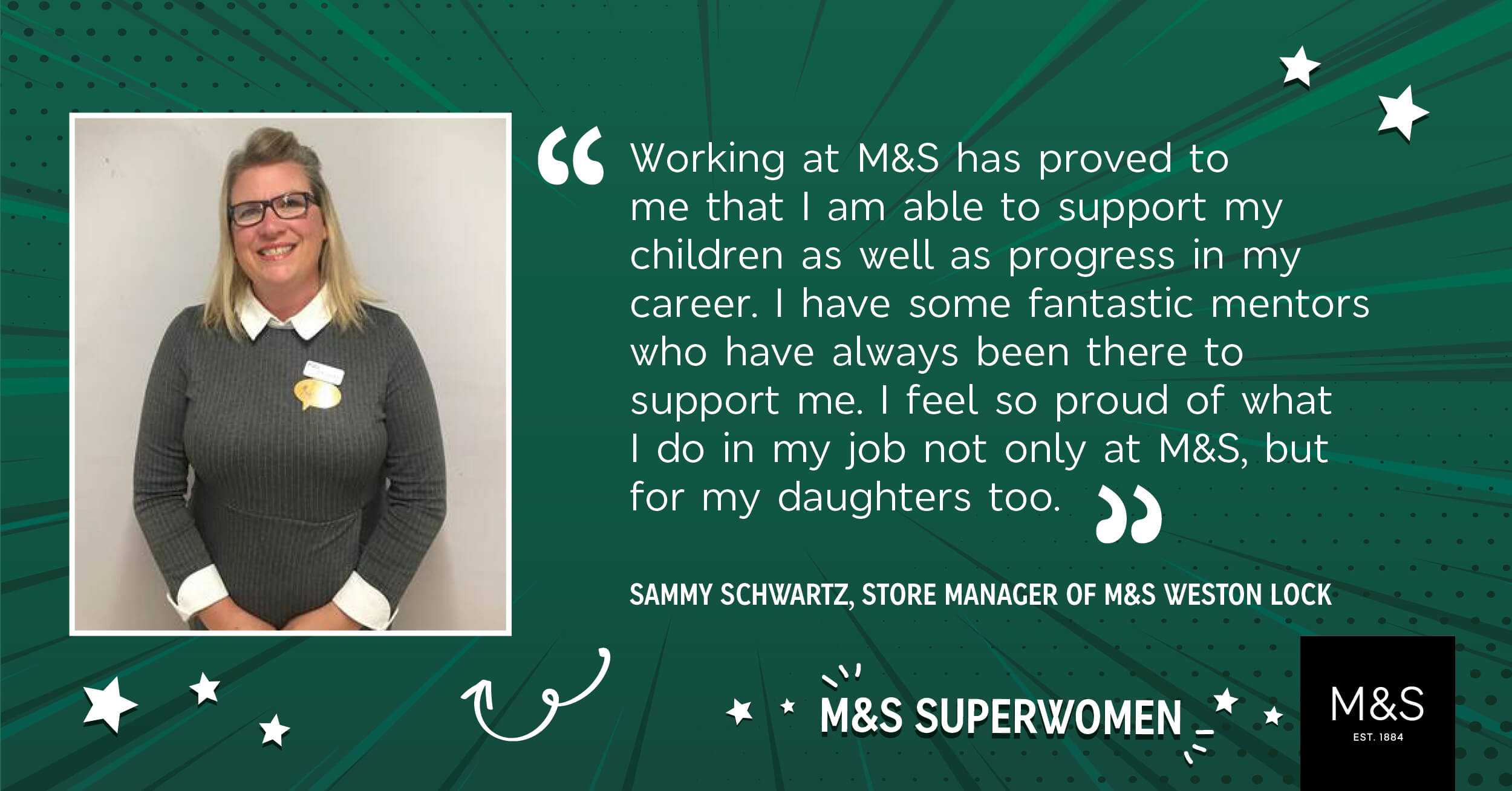 Sammy joined M&S nearly 14 years ago as a Customer Assistant working night shifts in our Cribbs Causeway store – a key role to ensure that our products are ready for our customers to shop.
She quickly progressed in the store, taking up various roles from leading in operations to foods as a Section Manager – all while being a single mum to her twin daughters.
Two years ago, an opportunity arose that would change the course of Sammy's career.
"The M&S Avonmeads store was recruiting a store manager and all of my colleagues and friends were encouraging me to apply. I was nervous to take the first step, as my daughters had always come first before my career. But equally, I was so determined to show my daughters that you need to work hard and take opportunities when you're given them. I applied and was really fortunate to have been offered the role,"says Sammy.
Sammy was store manager at Avonmeads for just over a year before continuing the role at M&S's store in Weston Lock, Bath, where she has been for the past eight months.
"Working at M&S has proved to me that I am able to support my children as well as progress in my career. I have some fantastic mentors who have always been there to support me. I feel so proud of what I do in my job not only at M&S, but for my daughters too."

John Dorrington is a M&S Regional Manager and one of Sammy's coaches.
"Sammy is one of the most humble people we know. She will never talk about the fact that she has brought up her twin girls as a single mum and at times, doesn't realise just how good a manager she is! She is a brilliant to support to her colleagues – regularly giving her own time up to support and coach them, but never asking for, or seeking any recognition in return. Having spent the longest part of her career in operations, which is one of the most male dominated areas, Sammy goes well beyond holding her own, and has always been highly respected as someone who really knows her stuff and can't have the wool pulled over her eyes."