22nd Sept 2021
Meet Sandra, The Buddy Network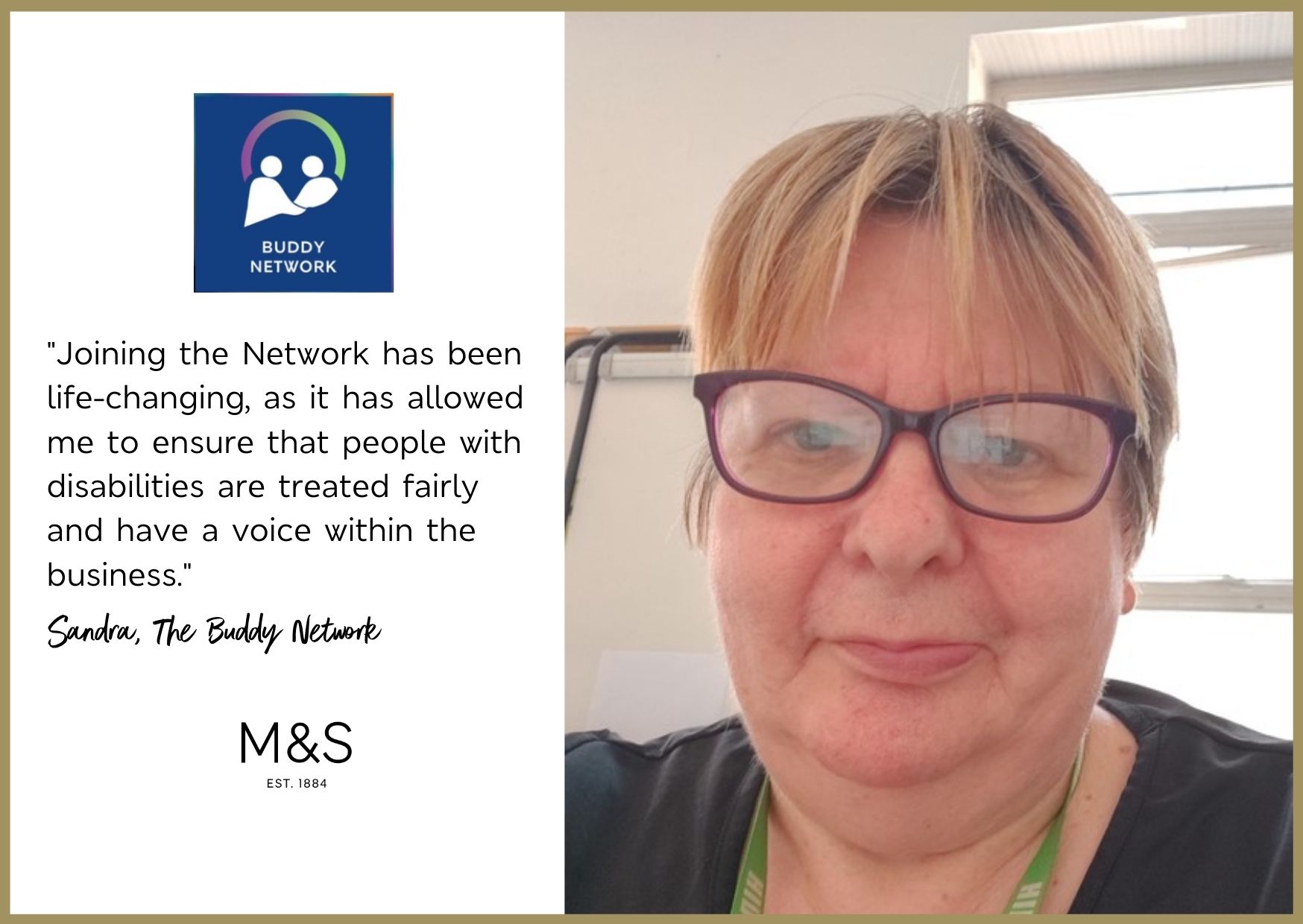 After a 35-year career with local government, Sandra joined M&S five years ago. Having experienced mental health issues most of her life, being part of the M&S family has provided her the support and care she needed, and gave her that sense of belonging she'd been searching for.
"I've taken medication for 20 years, and in 2013 I lost my husband suddenly. Joining Marks and Spencer has helped me overcome my loss and improve my mental health. Since stepping through the doors of our Falkirk store, I immediately felt part of the family and a sense of belonging."
As with all our colleagues, Sandra has been supported in her development and progression, and described her biggest achievement as working her way up to Regional BIG chair. BIG is our Business Involvement Group, a network of elected colleague representatives in every store and each business area that engage, listen to, and share colleagues' views and ideas that help deliver our transformation.
Our BIG commitment puts our colleagues' voices at the heart of M&S. As the pace of change within M&S continues to accelerate and our workforce becomes more diverse, the role of BIG becomes ever more important as the voice of our people. It was through her BIG commitment that she stumbled across our Buddy Network.
The Buddy Network helps our colleagues manage their own mental and physical health. It also supports people with disabilities or health conditions throughout M&S, providing a safe place for our colleagues to share their personal journeys, coping strategies, and top tips.
"Joining the network has been life-changing, as it has allowed me to ensure that people with disabilities are treated fairly and have a voice within the business. The Network helps people with disabilities feel valued."
"It shows that M&S is a caring employer who ensures everyone is treated fairly and provides a place where colleagues can speak openly about their conditions and help each other overcome their difficulties. The Network has helped colleagues feel more open about mental health and get the support they need."
If you'd like to learn more about our Inclusion & Diversity networks, visit our Inclusion & Diversity page here.