7th Sept 2021
Meet Samantha, Procurement Senior Commercial Partner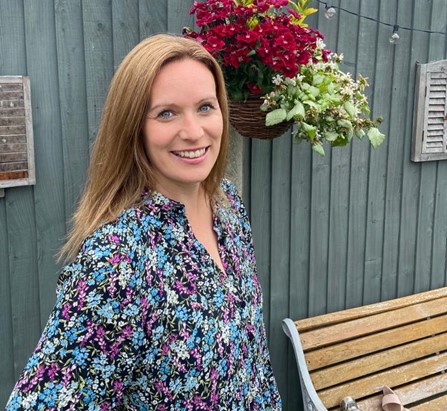 Looking back 10 years, Procurement Senior Commercial Partner Samantha would never have known that her first role with M&S as a buyer for shopfit equipment would lead her to what she now describes as a job she loves. One where she can work with a talented, diverse group of people in a team that works across the business to not only drive down costs, but also to look at other value areas including business partnering, risk management and market insight.
"The best part about procurement at M&S for me is the people I work with," explains Samantha.
"Business partnering is where I find the greatest reward and value. There is a brilliant diversity in the people, contracts and knowledge required to do my job well. In a single day I can be working on a packaging contract, government legislation changes and the risk to M&S, to a supplier contract management review for store audits. Without working closely with people internally and externally it would make a challenging role nearly impossible. Being a good business partner breaks down barriers and ensures you can have an open and honest relationship, including being able to challenge the status quo when required."
Costs are a huge focus for any corporate company and with the tough retail environment (Especially during 2020) the importance of the Procurement function has never been more relevant.
"With challenge comes opportunity and what has been great about the team I work in today is the constant review of what Procurement means to M&S. Cost reduction is a constant requirement and as a procurement team you must come up with creative ways to do so. For example, using technology such as e auctions is a great way to open competition in the marketplace."
"Managing risk in the supply chain is also hugely important. We need to flex to understand the risks which can be anything from truck driver shortages to supplier stability and M&S for every risk there must be a mitigation plan in place. As a procurement professional, the best way to understand risks and reduce their impact is through market insight so as a team we always check in on the latest industry webinars, general research and supplier collaboration days. There's always something new to learn which is what keeps us all on our toes!
Breadth of opportunities
When Samantha progressed to the General GNFR Procurement team here at M&S from her
initial buying role, she found huge opportunities in her sights.
"I moved to the Corporate and Professional Services team and was promoted to a Category Manager in 2017. M&S L&D programme was fantastic and saw me through my CIPS qualifications which I completed in 2018 and have MCIPS qualifications. My most recent success in the team is being promoted to a Senior Commercial Partner in June 2021. This is seeing my responsibilities in the team increase and also manage two colleagues."

"Not only am I passionate about my Procurement role and M&S as a business, I also am a huge believer in people and culture which has led me to being an active member in the wider finance community focusing on the Health and Wellbeing of my colleagues. This has been so inspiring and seen great support from our leadership team to allow us to be creative and help people through a number of ways including step challenges to keep people fit and healthy to organising talks with professionals around mental health awareness. The leadership team saw this as so important that Health and Wellbeing is a part of the finance strategy."
Interested in exploring a career in Procurement at M&S?
Take a look at our current opportunities here.