28th April 2021
Meet Paul, our Commercial inspiration in Clothing & Home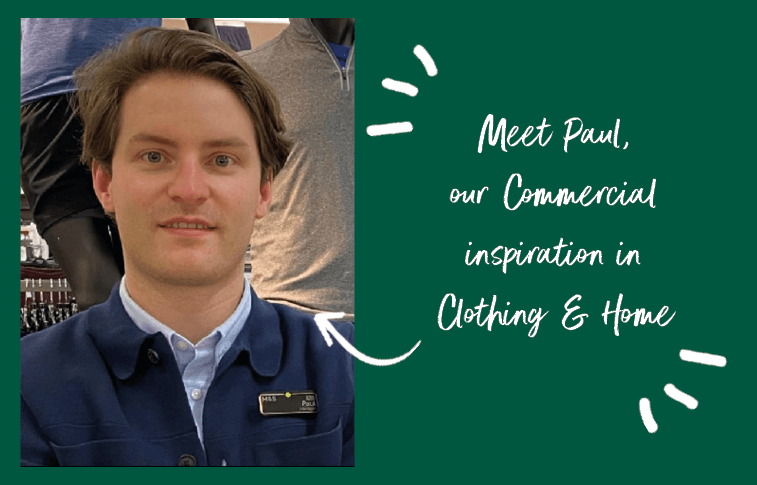 Going from sales advisor in our Mary Street store to Section Manager in Grafton Street, Paul is not done climbing at M&S. He now plays the purpose driven, business critical role of Commercial Manager at our largest store in the Republic of Ireland, Liffey Valley.
"I manage Menswear, Kidswear and Homeware. I am also the Menswear link for the Republic of Ireland – something I enjoy, as I give stores a voice to influence the bigger business."
What does a Commercial Manager do?
Paul meets his Section Managers each morning to explore the sales figures, customer experiences and colleague interactions that have taken place the previous day. Because it's his job to inspire creativity, efficiency and continuous improvement in delivering the M&S retail plan in his store, one day at a time.

"We'll identify any opportunities to drive up sales and service standards in the store. Depending on the time of the year, we're usually looking for ways to excite customers about a specific event. For example, Father's Day or 'Back to School'."
As a leader, Paul's talents go way beyond motivating his colleagues to be more productive. He's an expert at breaking down the need to adapt to a rapidly changing retail landscape. And encouraging colleagues to pursue make a visible difference to the success of an innovative, much-loved, international brand.
"Every day is different and requires you to think on your feet. You have to be flexible and possess the ability to make decisions that affect the store's results in a positive way.
The pace of change and being an active part of that makes M&S a great place to
work."
Are you prepared to be the best and earn the rewards?
M&S is working smarter, moving faster and investing heavily in its transformation to get the edge in our industry. However experienced you are, you'll still be open to learning new tricks – demonstrating your desire to nurture an ever-evolving skillset and support our bolder, more digital, commercially dynamic vision. Rise to this challenge and the satisfaction you'll achieve here can't be beaten anywhere else.
"The number of people in our store – and throughout the business – who have an extraordinary length of service is amazing. It's a point of difference we have compared to many of our competitors. We keep our people in a sector that generally doesn't have longevity of service."
So, if you put in what you want to get out of the business, you'll fit right in and thrive on the M&S vibe. And if you enjoy working with people and "getting stuck into a super varied role", Paul believes, "You'll love being a Commercial Manager".