20th May 2022
Meet Monique Leeuwenburgh, our Director of Sourcing, Tech and Sustainability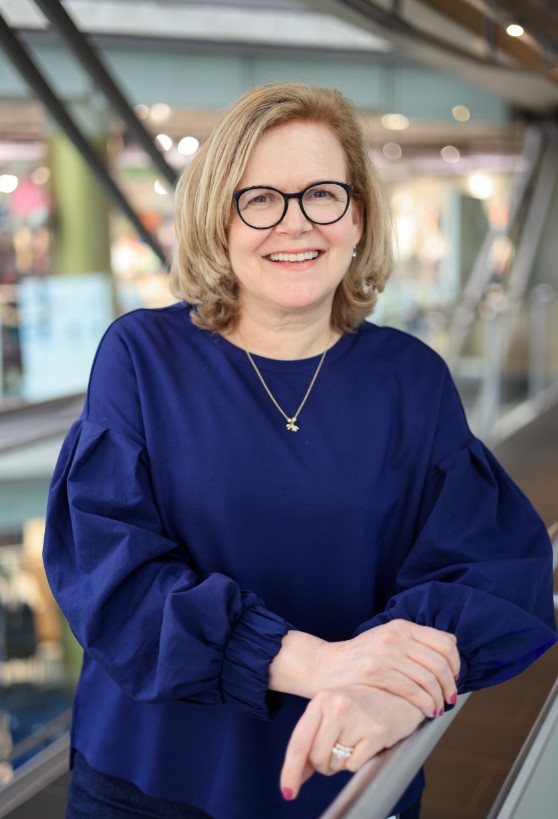 With leadership expertise and operational excellence under her belt, we're excited to showcase our colleague, Monique Leeuwenburgh, who's taken on a leadership role during a crucial time in our business transformation as our Director of Sourcing, Tech and Sustainability in Clothing & Home.
With the aim of our transformation to restore M&S to sustainable profitable growth, we needed an inspirational leader to join us on our mission to make our positives permanent. Monique is currently working on accelerating parts of our transformation to drive opportunities in a changed consumer landscape, whilst ensuring that M&S is changing for good.
Originally from the Netherlands, Monique spent a stint working and living in America, before heading back to Europe, with ambitions to work for a large retailer, either in a product and/or operational role. Originally recruited to join as our Head of Product Technology in 2019, she was accountable for our product creation process from initial concept to commercialisation, through providing technical leadership to our Technology teams. Within the role, she worked in collaboration with Buying and Design to develop a compelling product proposition and create the capability and culture needed to ensure its delivery.
As an exceptional leader, it wasn't long before she'd proved herself in the role and was promoted to our Director of Sourcing, Tech and Sustainability in Clothing & Home. She was instantly drawn to the role, the product, and especially the bigger challenge of transforming the way we work, eager to be part of our wider transformation.
As part of Monique's role, she currently leads a team of experts in Sourcing, Product Technology and Sustainability, ensuring that our products and our people are aligned to our business strategy, in making the everyday remarkable.
"We are sourcing, developing, costing and manufacturing sustainable products for M&S. My role varies, so I get involved in anything from materials sourcing/development to manufacturing, and everything in between. I am also deeply involved in critical path and process as part of the product engine.
My favourite thing about my role is the people and diversity of people I work with. I work with people all over the world every day. I love hearing their stories and challenges and working with them to resolve them. I also like to keep very busy, so I don't mind a full day of meetings and emails, if we can drive results!
The next best thing is our products and processes. I've always loved the combination of the two…. creating great product, in an efficient and effective way. Travel would usually be up there too, but due to Covid-19, I've not yet travelled with M&S! I can't wait to go out and meet our colleagues and suppliers."
Inspirational Leader
After being raised to believe that women are only there to find a good husband, Monique set out to prove her parents wrong. She begged to go to college but had to promise not to get married or have children for a while, which made her even more determined to succeed. In her early thirties, she travelled to Asia, and explained that "getting to know different countries/cultures made me realise there is 'no normal'."
"In my home country, people would say 'that's not normal', for certain types of food or the way you act, that women work long hours, but moving abroad I saw my own country in a very different light. It also made me realise that you get used to new/different things eventually.
It was hard for me to live in a country with high humidity and 35+ degrees of heat all year round, but after a while I loved it. This attributed to me becoming more flexible, and as a result I can now find the good in most situations. I always make the best of it and know that things always get better. I also got the travel/moving bug - why not take an opportunity and move around the world?!"
Life-Changing Perspectives
Unfortunately, Monique was diagnosed with cancer when she was 43, and whilst she describes it as a hard experience, she acknowledges that it made her softer and more approachable, putting a lot of things in perspective. After her recovery, she found it easier to have difficult conversations with people and open up to them.
"I wouldn't wish it on anyone, but I did definitely grow through that experience. I learnt to accept the cards you're dealt and make the best of it.
I've always tended to take the lead - as a young girl, I was usually responsible for my brothers and the household whilst my parents were away. Even though my parents were very traditional, they did see I was results oriented and honest with integrity.
My first job out of college was leading a team of 50+ people in a factory, predominantly male. I was never nervous, but looking back, I had a lot to learn then. I relied mostly on what I had learned in college, combined with intuition. Even though this came naturally, the development has come over time with professional management and leadership development courses. I've also learned a lot on the job, from managers and mentors. Being able to step into large roles early on, and knowing it was okay to make mistakes helped me grow in my leadership style."
Throughout her life, her experiences have culminated into the leader she is today. Even through her lowest moments, she's always taken away positives, and learned from them. Monique is a true representation of how not only work experience, but life experience, plays a fundamental role in shaping you into the person you become. An incredible leader, who we're so lucky to have join us on our mission to transform M&S.
Thinking of Applying?
If you're an experienced leader who is excited about our transformation, and passionate about our products and people, we're currently recruiting a new colleague to fill the Head of Technology position. Monique originally joined in the position, so the progression opportunities are second-to-none - she also has the perfect advice on the candidate she thinks would be a great fit for the role:
"The people that work at M&S make it a special place to work, combined with the transformation we are going through. You can drive many initiatives, so there's lots of opportunity for growth.
You definitely need to have a background in the function you are managing (i.e materials or technical development), but you don't need to be the expert in everything. It's important to set a vision, and let your team have the freedom to execute it - you can't be a micromanager and succeed in this area."