2nd December 2021
Meet our Toyota Apprentice Maintenance Engineer, who's scored his Apprenticeship straight out of school and well on his way to becoming M&S' next best Maintenance Engineer!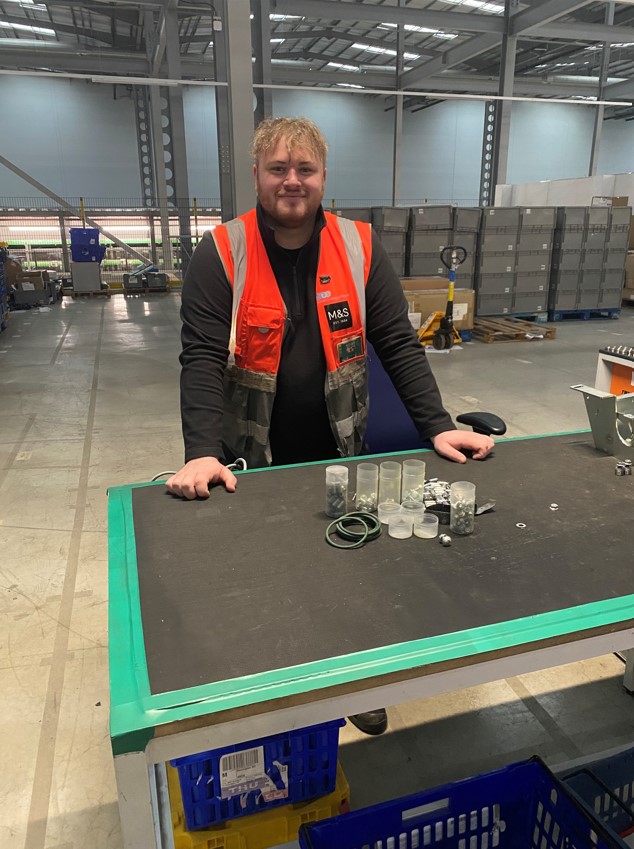 Meet Harry, our Toyota Apprentice Maintenance Engineer, whose love for football and passion for engineering has meant he's been able to score his dream job straight out of school and be well on his way to becoming M&S' next best Maintenance Engineer.
After successfully applying to our Apprenticeship scheme, which is in partnership with Toyota, he began his training at their state-of-the-art Toyota Apprentice Development Centre to gain his NVQ Level 2 as a Maintenance Engineer within the Assembly Shop. During this time, he acquired a basic understanding of writing PLC programmes, mechanical and electrical elements, electrical installation, welding, machining, fluid power, hand skills and business improvement techniques.
After his two-year stint at Toyota, he then joined our Castle Donington Distribution Centre, implementing the skills he'd learned, and started his in-house training to complete his NVQ Level 3.
"I picked M&S because of the many incentives you have as a colleague, and also because it's a huge brand, widely recognised for its quality products. After completing some initial tests, I found out that I was invited for an interview and a tour of the site. Straight away, I was impressed by the size of the facility and the quality of the equipment I could potentially work with as an engineer.
Engineering within our Transformation
As part of our 'Never The Same Again' transformation, we've tasked each of our unique business areas with making M&S the best, digital-first, fit-for-purpose retailer - with business decisively shifting towards online, having highly skilled, talented and motivated colleagues at our Castle Donington Distribution Centre is pivotal to achieving our goal.
"The engineering department is a unique place at Donington, and key to M&S' transformation by paving the way and installing modern equipment, further streamlining the business' desire to be more cost effective, and most importantly, provide a better experience for our customers. The department works alongside operatives and contactors to ensure the operation runs smoothly and that our customers receive their products efficiently, and accurately.
On a daily basis, I support the engineering teams, increasing both my knowledge and understanding to complete my Level 3 in Mechatronics and become a Multiskilled Engineer. A Toyota assessor regularly assesses me to ensure that both my knowledge and progress are on track. I also regularly participate in project work to aid operations within the centre, as well as in the engineering team.
My biggest achievement so far has been completing my Level 2 and being well on my way to achieving my Level 3. My role is rewarding, as I'm able to witness first-hand how my work has benefited the site, and work on cutting edge equipment, which is an engineer's dream!"
Thinking about a career in Engineering?
There's never been a better time to join M&S. We're investing in new equipment, our colleague's wellbeing strategy, and their qualifications to become the next market leader in logistics distribution.
"Now is the perfect time to work at M&S, they're investing in equipment, people and qualifications. I believe that with the right skill-structure, M&S can become a leader in both logistics and engineering by ensuring we're using the best equipment possible, and that our colleagues have the best skill sets throughout the business.
People who're thinking of joining Castle Donington would need to enjoy the challenge that comes with it. If you enjoy a hands-on role, and think you'd be able to fault-find on the go, you'd be suited to a role in engineering. However, experienced colleagues provide you with in-depth training to ensure you have the skills you need to fulfil your role. So even if you're not the best right now, M&S will do all they can to ensure you succeed."