17th September 2021
Meet Craig, Multiskilled Maintenance Engineer with a passion for success...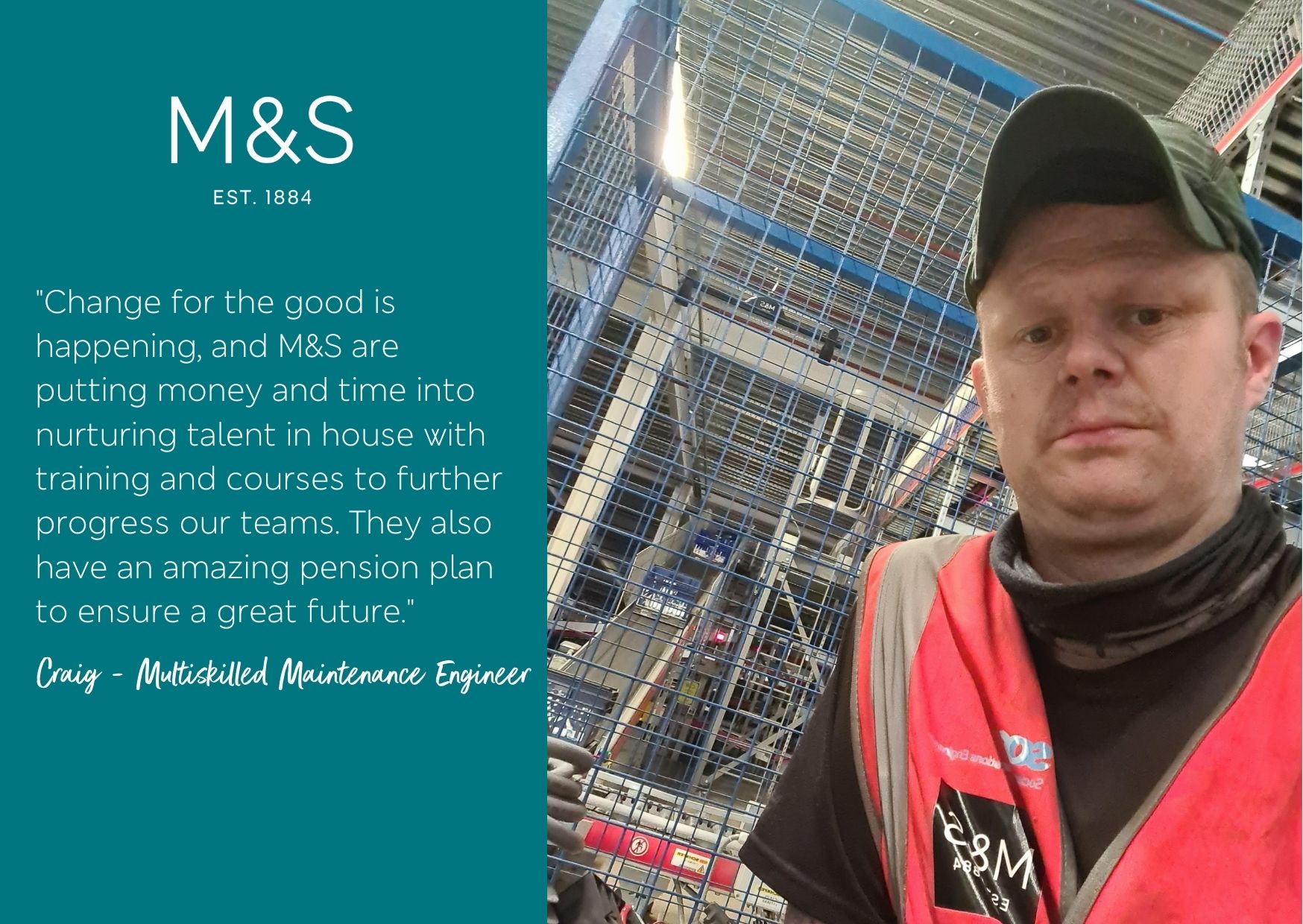 After hearing about the family-style culture we have within M&S, Craig couldn't wait to get his foot in the door. Joining us from Boots and seeking to progress more within a different company, he joined our Castle Donington Distribution Centre on a temporary contract in the Despatch Department. His hard work paid off, and he was hired on a permanent contract within 12 weeks, securing a role on the Lean Team looking at problem areas within the warehouse. His problem-solving abilities didn't go unnoticed, and it wasn't long before he was helping reduce missed work orders in the flow room, before moving into the Engineering Department as an FTF.

Completing an NVQ in Mechanical and Electrical Engineering whilst working as an Engineering Assistant gave Craig the opportunity to move into the role of Multiskilled Engineer where he currently works in a team which analyses error data for the warehouse and recognises trends to help rectify them.

"I work as a Multiskilled Maintenance Engineer, using data to spot trends and historical errors within the automated systems across the warehouse. This helps rectify the issues we've found and highlights the repairs that need to be carried out on equipment. Downtime of the equipment is then reduced, meaning there are less missed orders, and ensures we get the orders out to our customers on time."

To enhance his knowledge within the area, he's now also completing a Data Technician Apprenticeship. Craig's breath-taking success story is the perfect example of how having an astounding work ethic as an M&S colleague opens doors and warrants success!

Recognising Achievements

At M&S, we recognise our colleagues for their achievements and pride ourselves in housing such innovative, industry-leading talent. Craig's proudest achievement during his time with us is receiving an employee of the month award for developing a time-saving program, which has meant more of our amazing customers can receive their orders on time. He also finds training and upskilling his colleagues the most rewarding part of his role.

"I received employee of the month for designing a program to reduce the time it takes to find a specific fault area within the department, reducing downtime and reducing missed promise orders for our customers. I find training and bringing on new employees rewarding, as I was there once, and the person training me was the one who managed to get me where I am today."

Looking to join?

There's never been a better time to join M&S. As part of our Never The Same Again programme, we're investing in the future of our colleagues and remain determined to make these positives permanent. We're accelerating the transformation to drive opportunities in a changed consumer landscape and ensure M&S is changing for good.
"Change for the good is happening, and M&S are putting money and time into progressing in house with training and courses to further progress their employees. They also have an amazing pension plan to ensure a great future."
The great news is, at M&S, we're always looking for fresh talent! If you're considering a career in Engineering, or you're already an Engineer looking for a new challenge, visit our Talent Community here to register your interest and let us know you're open to considering future Engineering opportunities! With an abundance of roles to choose from, ranging from Inspection Technicians to fully qualified Maintenance Engineers, we can almost guarantee you'll find a role that's right for you.