14th March 2022
Meet Bryn, our Castle Donington Development Manager, who spotted an opportunity to launch his logistics career as we accelerate our transformation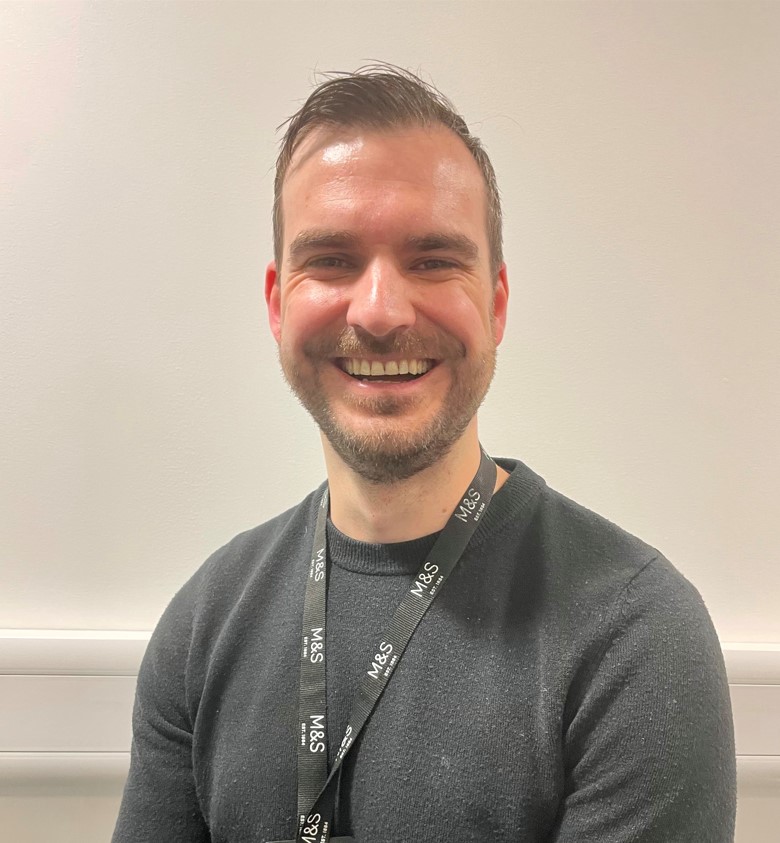 Our Castle Donington Distribution Centre is the heart of our business. At 900,000 square feet, its gigantic size is well-suited to the massive part it plays in our logistics operations. We've invested millions in the centre, and in our colleagues who work there. For us, it's vital that the centre houses colleagues with the correct skill sets in order to help us succeed in our transformation plan. We're excited to share with you our Development Manager Bryn's story, as he plays a crucial role in our mission to transform M&S into a digital-first retailer, equipped for the future.
Joining M&S in 2016 as a Foods Manager in store, he spent three years working in many of our Simply Foods and Full Line stores, before deciding to move to Castle Donington as a Team Manager, after hearing about our accelerated plans to push our ecommerce business.
"I wanted the opportunity to move away from an operational role and into a support function. Knowing Castle Donington had many of these functions, I worked on building my network on site until I found an interesting job that suited my skill set.
After five months as a team manager in the warehouse, I was successful in securing a secondment role as an Assistant Project Manager in our Development and Delivery team in January 2020. I worked on a number of projects, including supporting the installation of two new auto-baggers.
Throughout the year, I focused on my personal development and growing in my current role, including completing a Prince2 qualification in project management. This supported my progression in securing a Project Manager role in early 2021.
I continued to seek opportunities to broaden my areas of personal development throughout 2021, directing my efforts towards becoming a Development Manager. In only a few months, I was successful in my application to become an Assistant Development Manager, followed shortly by becoming a Development Manager."
Aligning Values
Our Development and Delivery team are responsible for delivering all our transformational changes to Castle Donington, our primary Ecom fulfilment centre, and a key feature of our future supply chain and logistics network. Split into 3 chambers, the warehouse contains a mix of automated and manual operations, delivering around two million single items a week during peak operating periods. We've invested millions in its modernisation, but it's still our colleagues like Bryn that make the real difference!
"On a day-to-day basis, I'm responsible for the future strategic development of the site, so it's built up of an exciting blend of ideation, problem solving, data analysis, and project support. My biggest achievement so far is successfully delivering multiple logic changes to our automated pick area to improve site capability by 10%, which spanned a year from idea to delivery.
For me, the M&S values align with my own and were my main reason for joining, along with wanting to see the business perform at its best again. Having worked for the business for five years, I can confirm that the reputation the company has externally for being an excellent employer is absolutely true.
M&S most notably adopts a colleague and customer first approach at the heart of its decision-making. The breadth and depth of career opportunities, combined with its investment in people, make it an excellent place to work."
Fancy joining us?
If you're thinking about a career in logistics, working alongside a team of brilliant individuals on exciting and interesting projects, Bryn describes the key qualities he would look for in a candidate:
"If you're a team-player, creative thinker, have excellent organisational skills and have the ability to simplify complex information, you have the ingredients for success."
Head over to our Distribution careers page here to see our available opportunities!