22nd Sept 2021
Meet Beth, The Family & Carers Network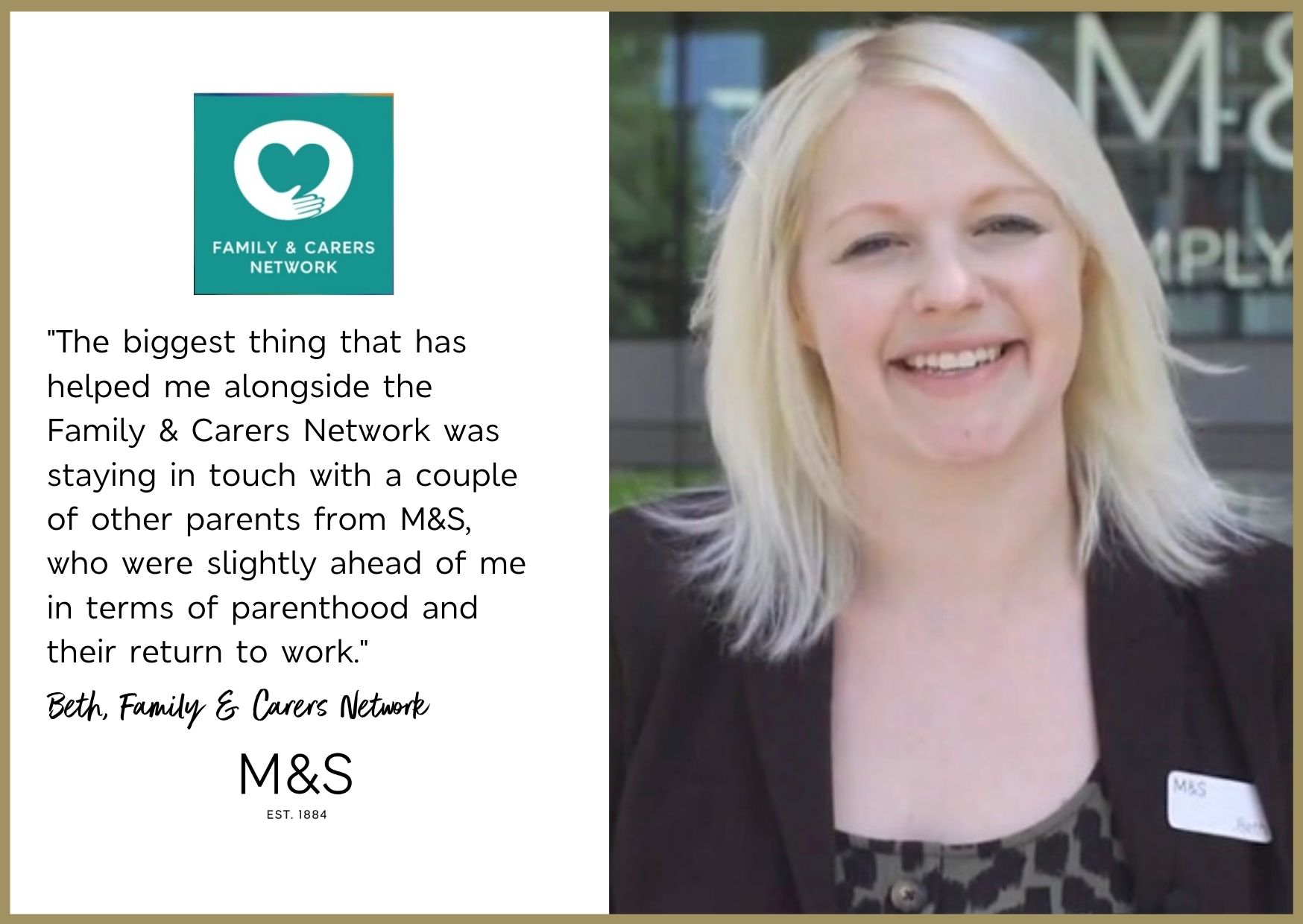 Our Family & Carers Network represents all the different types of families, as well as everyone with caring responsibilities. The network acts as a support network and a sounding board for ideas that help our Network members. While it seems there is never a perfect time to have children, Beth was really pleased that she took the step of becoming a parent while working at M&S.
"M&S has been supportive of this massive life change, and my colleagues have stayed open-minded in reviewing the flexibility I need to balance my work and home life."
"The biggest thing that has helped me alongside the Family & Carers Network was staying in touch with a couple of other parents from M&S, who were slightly ahead of me in terms of parenthood and their return to work. Having the option to dip into Yammer whilst on maternity leave and read the latest colleague communication was also beneficial."
One of the biggest things that Beth learned on her journey to parenthood is not to underestimate the impact such a huge life change has on your wellbeing, whoever you are, and, however resilient you may be. This is why it's so important for us to do what we can to help and support our colleagues.
"I was fortunate to have good support networks at home and at work, however, like one in 10 mothers in the UK, I experienced a short period of post-natal depression following the birth of my son. I was not expecting this, and I am grateful it wasn't severe. Thankfully, I was aware of the support I could access and the practical things I could do to move past my depression and slowly get back to myself. But I may have struggled for longer if I didn't know I could reach out for help. Mental ill-health is indiscriminate, it can even happen to the Wellbeing Manager at M&S!"
"It's great to know that M&S is adding information about the mental wellbeing support available to the communication pack that our colleagues receive when taking maternity/paternity leave. I think it's important, particularly for those of us who are line managers, to remember that maternity/paternity leave is challenging for every new parent, and support lines need to remain open."
If you'd like to learn more about our Inclusion & Diversity networks, visit our Inclusion & Diversity page here.