Meet Josiah Davis, our ambitious Kickstart Apprentice, who's reached astonishing heights as he's headed up the BT Tower as a Movement to Work Ambassador!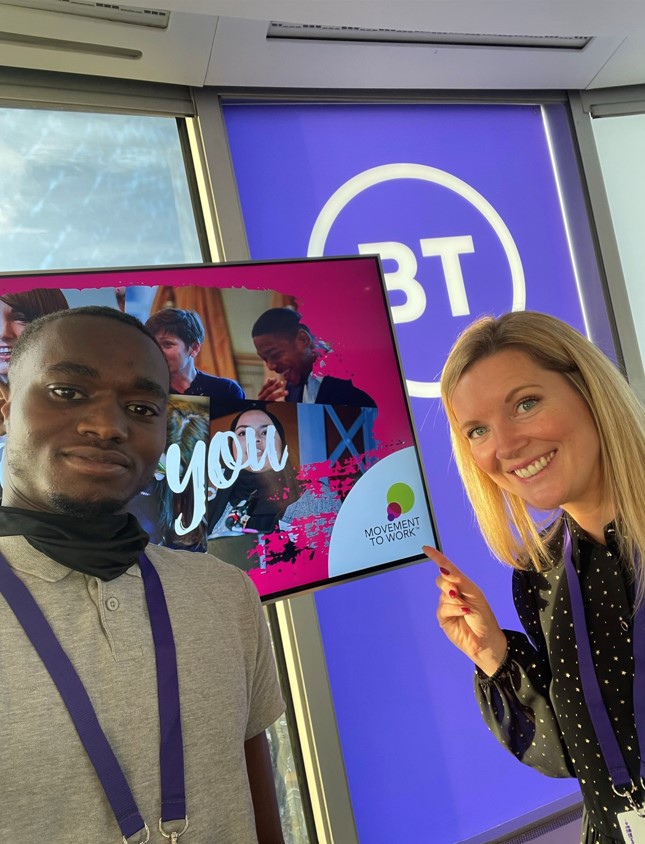 As part of our wider commitment to employability, our Kickstart Retail Apprenticeship scheme does exactly what it says on the tin, offering 16-24 year olds the opportunity to learn invaluable skills and training in retail. So far, in partnership with The Prince's Trust, we've helped over 10,000 young people facing barriers into work join us on placements in multiple departments within M&S stores.
Josiah joined us on the Kickstart scheme in April 2021 in our Clapham store. His journey so far encompasses our dream of empowering young people to build a prosperous career, by giving them a chance to succeed.
"I was a college student, and previously completed my work experience at the M&S Clapham store a few years before. COVID made it difficult for me to continue my studies, so unfortunately I had to leave.
Then, after completing multiple online courses to gain some experience to help me find a job, I was offered the opportunity to be involved in the Kickstart scheme, which was due to be launched for the first time within M&S. Since then, I have continued to improve, with the hope of progressing within the business."
Working within the Warehouse, Josiah witnesses first-hand the behind-the-scenes operating procedures within our stores, and describes his position as an "absolute privilege". With no two days the same, he takes deliveries, distributes in-demand stock across the shop floor, and ensures his co-workers are kept up-to-date with the latest information regarding upcoming deliveries and equipment collections/deliveries.
Movement to Work Ambassador
Recently, Josiah was selected as a Youth Ambassador for Movement to Work, an organisation that inspires employers to help young people change their lives through positive encounters with work. With the support of M&S, he can now help other like-minded young people find their way into work, and help them uncover their hidden talents, getting their career off to a flying start.
Outside of work, his selfless attitude continues to shine as he enjoys helping elderly people with small jobs they're unable to do themselves. Be it taming the garden or cleaning their windows, there is nothing that this admirable young man is deterred by.
Our Talent Support Partner Heather Graham said, "We're extremely proud of Josiah for many reasons... he takes great pride in supporting other new starters, as he remembers what the first few days in a new job can feel like. He's also extremely passionate about Youth Employability, and we're delighted he's been selected as a Youth Ambassador for Movement to Work so that he can help represent the voice of our younger generation.
Josiah recently attended the Youth Employability Summit hosted at the BT Tower of London by Movement to Work, and did a brilliant job of hosting his table and sharing their views in front of a large audience. He admits he wouldn't have thought he could do something like that, but the Kickstart programme at Clapham has helped his confidence immensely."
Cherishing Achievements
At M&S, it's important for us that our colleagues feel fulfilled in the work they do. We offer many internal opportunities they can get involved in, from Inclusion & Diversity networks, which offer volunteering opportunities and regular key-note events they can attend and become more inclusive allies, to our new BEAM Academy, which equips colleagues with the Digital & Data skills they need to help us in our digital transformation.
As a business, we're keen to translate work experience placements into longer-term career pathways. We're delighted Josiah has decided to commit to the Level 2 Retail Apprenticeship in stores, which will equip him with skills and further knowledge on a breadth of retail excellence. It's crucial to us that we invest in our colleagues, and that they take the time they need to invest in themselves. Josiah is a perfect example, and highlights exactly what we strive to achieve across the board.
"I have two big achievements which I cherish. The first would be finishing the Kickstart programme and being offered a place to stay after I finished. It was a very warming feeling that my store wanted me to stay as a colleague of theirs. Soon after, I became an Ambassador and had the privilege of speaking on behalf of young people and M&S, on how they've helped me get to where I am now. It's even more rewarding telling new employees how I've worked my way through, and to see how much more confident I am than I was at the start.
M&S have a high standard on their products and service, but being part of the team here is what makes it the most enjoyable. As M&S are also involved with local charities, it shows me that we have a good reputation. When I first started the store, colleagues were helpful, knowledgeable, and patient with me. That alone would make new employees feel welcomed, but it's also such a rewarding job, and the work you put in comes with great results."
Thinking about joining us?
"In an ideal candidate, I would look for someone eager to learn new things, but also someone who makes the work that needs to be done easier for their colleagues around them, rather than harder."
For more information on applications, visit The Prince's Trust here, who can help you apply for the next Marks and Start programme in your local area. Reach out today and make the first step towards an exciting career in retail!