13th March 2020
This is Not Just Any Academy. This is the Thought Provoking, Culture-Cultivating M&S Food Marketing Academy.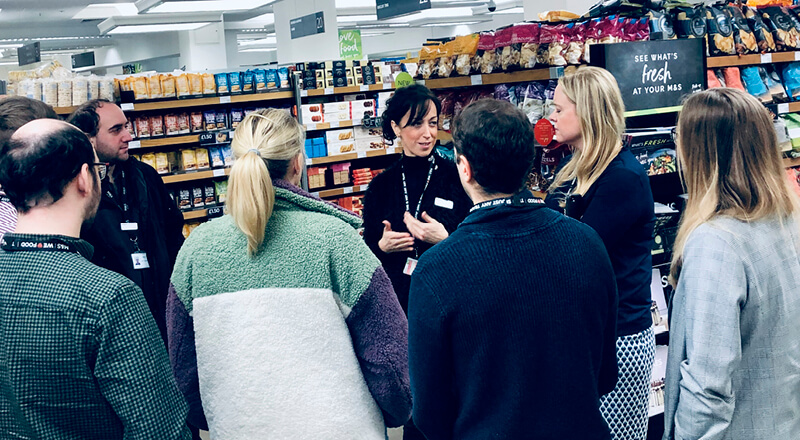 At M&S Food we want to make sure our incredible products are the most talked about. That's a fantastic challenge for a marketing professional.
When it's not just any marketing job, you need the learning and development to go with it. That's why we have launched the M&S Food Marketing Academy - a series of insightful sessions which will help new starters understand how we work as a Marketing team and equip them with all the basic tools they need to begin their career here. The modules are also a great opportunity for those who already work in M&S Food Marketing to get to know more about the rest of the team. From packaging design to category marketing, each session has been designed to bring to life what it means to be an M&S Food Marketeer and are delivered by our very own M&S Marketing experts, some of the most talented professionals in the industry.
Antonia, Events Marketing Manager, says "we recruit only the very best talent and we want to empower them, to help them deliver." The Food Marketing Academy is all about setting the high standards that we know everyone else in the industry tries to emulate. Standards that ensure we're always connecting customers to our brand in the most effective and engaging way possible, across every touch point.
But what makes our approach so unique? According to Ian, a Packaging Designer in the Food Marketing team, it's down to a "team with diverse talents and vast experience, as well as a leadership team that encourages thinking outside the box." This is reflected in the Marketing Academy, Ian also commented that: "The fact we have such outstanding in-house public speakers with so much knowledge is a testament to our ability to attract the very best candidates in the industry."
Our passion for food is legendary. Despite a challenging retail environment, we're transforming to meet the demands of the future. A future that continues to put the customer at the heart of everything we do and will ensure M&S Food remains a staple in homes throughout the UK.