3rd August 2020
Campaigns Like Little Shop and Little Garden Have a Big Impact on Our Business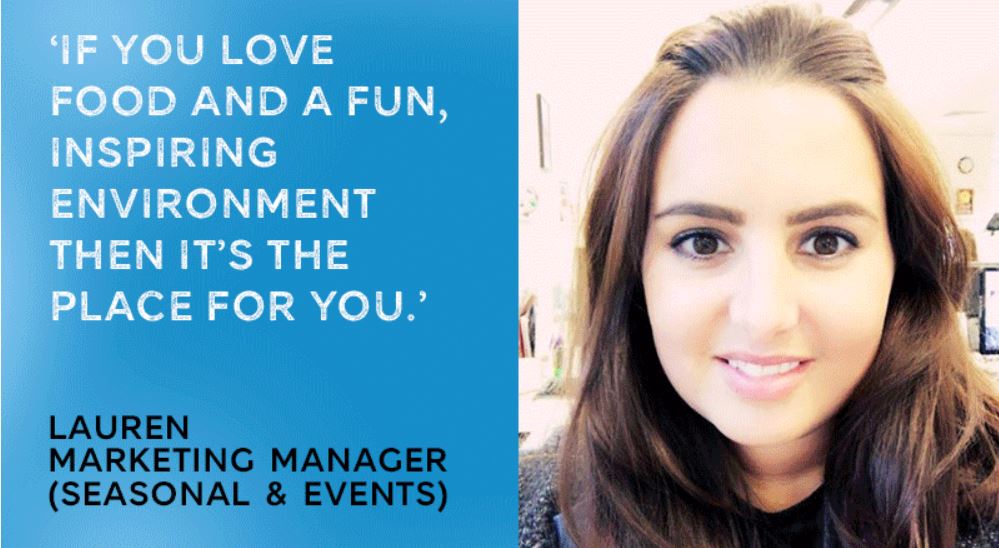 Given her previous experience working as a PR at a creative agency, Lauren knew the right opportunity to move in-house had come along when M&S advertised her current role on our Foods team for Marketing Manager in Events Marketing & Design.
"I had been working at a creative agency in the PR team and wanted to widen my marketing experience. I had decided to make a move in-house and was just waiting for the right brand, I saw M&S Food advertising a role and was excited to apply. I was originally looking at a PR and Marketing role but following a conversation with Sharry (our Head of Marketing, Foods) she told me about a separate opening that she thought would be perfect for me and she was right!
Loving her new role, Lauren recently launched our second Little Shop campaign which has had children (and adults alike!) straight to our stores to get their hands on the amazing new, more sustainable collectables.
"Little Shop is a collectable campaign that resonates with our family demographic and drives incremental spend in the foodhall. As the project lead, I look after every element of the campaign from sourcing the collectables and working with teams to choose products to feature through to creating the in-store point of sale and website. I also work closely with our brilliant channel marketing teams to activate the campaign through social, editorial, digital, PR and CRM."
Lauren's loved the opportunity to work on such a well-loved campaign, but a lot of work has gone into ensuring Little Shop 2 has been the best yet, been more sustainable, and that it makes a real impact on the business whilst delighting customers.
"Initially it's a lot of work with external suppliers who are creating the collectables – ensuring the look and feel is right, the sustainability and sourcing credentials meet the high M&S standards and that we're coming in on time. Nearer to the campaign I work closely with the supply chain team to get stock in to stores, the pricing team to get it all set up on tills and the channel marketing teams to ensure the campaign is activated brilliantly. I also work closely with the retail team to brief our brilliant in-store colleagues on campaigns and try and find new and fun ways to share updates. It's so important they're really engaged as they bring it to life in-store for customers. I then spend time keeping my key stakeholders updated regularly with touchpoint meetings and ensuring the senior teams are kept up to date with progress."
"Campaigns like Little Shop and Little Garden have a big impact on our business. They drive incremental sales and increase our family demographic, which is something we're really keen to do. Our customers also love them. They love that they can do their weekly shopping and get something free that will teach the children about food and where it comes from. Little Garden was especially popular with 97.4% positive sentiment across our social media channels – customers loved growing their vegetables, herbs and flowers from seedlings."
A move in-house didn't slow Lauren down!
In the marketing world, some may say working agency-side provides the fast-pace a Marketing Manager needs – but as you can imagine, M&S provides that challenging, headline-making project work that any creative would want in their career.
"New products are coming out all the time and as part of the Events team we work on over 50 events a year from Christmas to Jewish New Year. If you love food and a fun, inspiring environment then it's the place for you."
"It's a really exciting time to be joining M&S there's so much going on. From our transformation plan to our joint venture with Ocado things are developing all the time – we're certainly a company that is future-proofing ourselves and it's a fantastic team to be a part of."
Interested in learning more about upcoming marketing roles? Sign up for our Talent Community where you'll get key updates from the business and be the first in the know when our vacancies go live.