16th May 2020
Making the Most of Rising Talent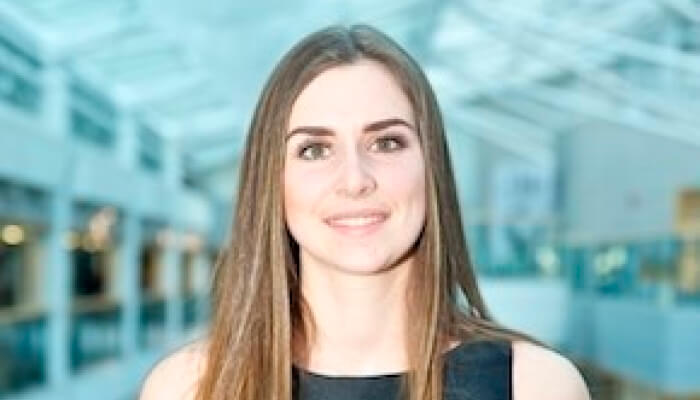 It's Deaf Awareness Week – a great opportunity to celebrate the achievements of our deaf colleagues right across M&S. This year we spoke to Zofia: an undergraduate currently based in our Food PR team on a 12-month placement. This inspiring student talked to us about her life, how she came to be at M&S and what her plans are for the future.
"My love of food started at an early age – I've always really enjoyed baking and my favourite subject at school was Food Technology. My teacher became my role model - she was very strict and could be scary sometimes but she really believed in me and knew I had the drive to succeed. As part of the A Level course I took an internship at Rhokett, one of M&S' main dessert suppliers. Here I saw some of the amazing food that M&S creates. The team were making our 'famous' Belgium Chocolate Jaffa Sphere while I was there. Yum! I have an M&S store near where I live and I always get excited every time I go in and can't resist trying anything new, especially chocolate!
"While I loved Food Technology at school, I did struggle academically and people often doubted my ability – this spurred me on to prove them wrong. I worked so hard and achieved really high grades for my GCSEs (A* to Cs) – this was a turning point for me. Before that I didn't see myself as an academic person and never envisaged I would go to university. But now after three A-levels (A* A* B), I'm at Sheffield Hallam University studying Food Marketing Management. I'm really proud of myself and how far I have come.
"I've always had incredibly supportive family and friends but being deaf has obviously been a challenge for me, particularly when I was younger. I do feel that young people can misjudge people with disabilities because they don't understand and don't know how to act normally with them. After doing so well at school, I decided to have a break and take a gap year and spent an amazing four months in New Zealand, Australia and Asia. This made me more confident, independent and sociable and helped me at university, where I met wonderful people and was in a very supportive environment with friends and tutors.
"As part of my university degree, I chose to do a 12-month industry placement. I applied to several places but was so thrilled when I was accepted at M&S as a Food Press Assistant. It's a busy role that sees me regularly liaise with journalists and organise events like press shows. It's a buzzy environment and I love the fact I've been given so much responsibility. Every day I work with lots of creative people and learn something new. I've grown a lot as a person while working here and I feel that I will have achieved so much by the time I leave. I've always worked hard and have become very career driven – I'd absolutely love to come back to M&S. Save me a chair in the new smarter working set-up!
"If I could give anyone advice with hearing loss I'd say be positive and don't let anyone tell you that you can't do it because you are deaf, because you can! Carry on, even if it's a long ride, never give up." When asked how having hearing loss has shaped Zofia as a person, she said "I feel I do stand out in a positive way. I love a Richard Branson quote about his own disability, dyslexia: 'It's a gift, not a disability but your greatest strength'".