17th May 2021
Our colleagues are learning at work via remote mentoring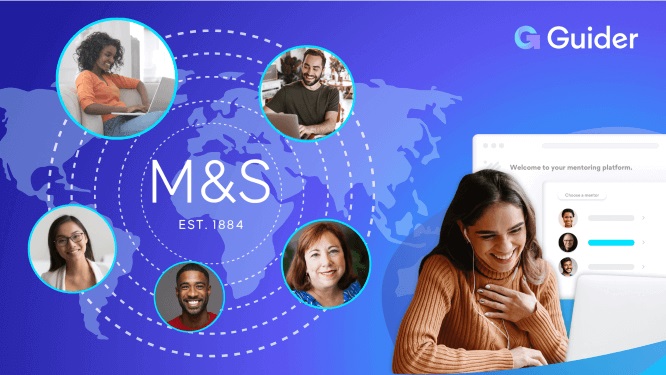 Almost 2 years since we first formed our partnership with the Remote Mentoring Platform Guider, we have seen more and more of our colleagues embracing this virtually accessible programme with over 225 mentoring relationships now underway.

We believe mentoring plays a crucial role in creating and sustaining a high-performing, inclusive culture, and by putting data and insight at the heart of our mentoring system via Guider's smart platform, we have the capability to match compatible mentors in M&S with colleagues from every part of our business. Each and every colleague can access this unique method to learn from their colleagues, whether working from home or if in the office – an aspect which has been particularly valuable this last year.
Utilisation of the platform has really demonstrated that many colleagues in our business are keen to learn, are open to new ways of thinking, and have a passion for learning at work in ways which are beneficial to both parties involved.

"Before we signed up with Guider, we had a very ad-hoc mentoring system, there wasn't any science behind it. You were very much still in your silo'd area, so we needed something more structured. What Guider has done is opened that up, so you can now be a mentor or a mentee with anybody in the business.. It's been a real eye opener for me for how easily we can connect all the different people within the business, and not only connect them, but share everybody's fantastic skills, says Suzie King, Program Manager at M&S.

For many of our mentees on the program, being mentored by somebody in a completely different business area to them is one of the most valuable things. Getting exposure to new perspectives from someone they would never have the chance to meet gives employees additional support figures outside their team, as well as a more well-rounded view of the business.

"Guider made it very easy for me to seek out a mentor within M&S who was from outside of my immediate area. I got matched with a great mentor with whom I've been able to be open and honest, and who in turn has provided just the right level of listening and fantastic constructive advice. I highly recommend that everyone has a mentor to support them through their career!"
"My mentor and this scheme has been an amazing and constant support in starting my journey with M&S. I have had priceless feedback and advice that has helped me to manage situations I otherwise would have struggled with"
Through Guider, M&S employees can request multiple mentors with varying experience, to help them with different areas of their personal and career development.

"As a mentor, I have learned so much from my mentee. The programme has exposed me to a different area of the business that I wasn't as familiar with. It has taught me about our business! I feel a great sense or pride in being able to use my experience to help others in the business navigate their own careers.. We should encourage all of our leaders to be mentors."
With our International store and ecommerce presence growing, we also wanted to make sure our International colleagues were getting the same fantastic support from Guider, and in this last year have seen great uptake from colleagues all across the world seeking to learn and build new relationships.
Nicola Cronin, Head of Content at Guider explains how the platform has helped so many businesses this last year.

"We're delighted to be helping mentoring grow within M&S, particularly throughout the pandemic. When work turned virtual, mentoring became more important than ever, and it was great to see sign ups increase and expand beyond the limits of the office. With employees in Greece being mentored by colleagues in Yorkshire, Guider has connected the M&S community in new and exciting ways. To anyone wanting to work on their personal development, hit a career goal, or just meet some new interesting people within the company – take 5 minutes to join Guider!"

Getting equipped to take your career to the next level

With fantastic learning and development opportunities and support for colleagues where they need it most, we can ensure our business and our people can thrive and adapt in a challenging, but very rewarding industry.