12th September 2018
A Hive Of Activity All Year Round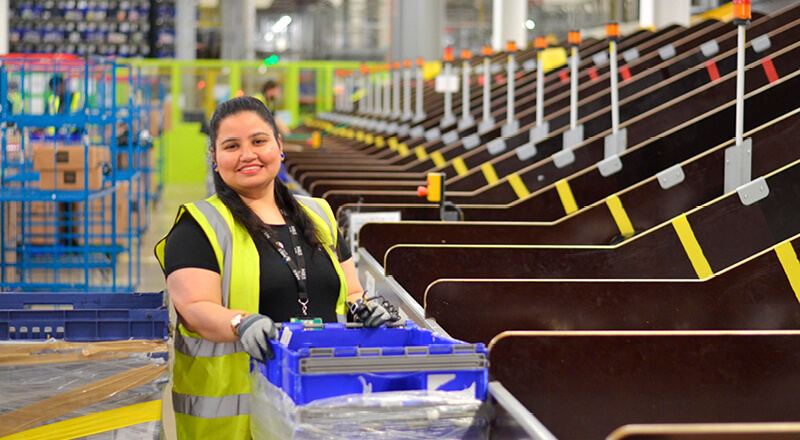 Our Castle Donington Distribution Centre is a hive of activity all year round. But during the run up to Christmas, things go to a different level. In a peak week, the team send out over two million products. That's a lot of parcels.
So what's it like to work in such a busy despatch function? And how does it compare to other warehouse environments? Veenu is the ideal person to ask. Veenu had worked in other warehouses in the area for over five years, before joining us in Castle Donington in 2017.
What's your role in Despatch? I transfer customer parcels to containers to be loaded and despatched for delivery to customer homes.
You've worked in other distribution centres. What is different about Castle Donington? I expected it to be like other places I've worked, but far from it. I was impressed by how much effort the colleagues at Castle Donington put into supplying customer orders. We work as a seamless chain for the customer. At the same time, there is a great team spirit. We have fun. Marks & Spencer also has very competitive rates of pay, better than a lot of other warehouses nearby.
What's the job like like at peak time? It can be very busy especially at peak, but I like that. If you're motivated by exceeding targets, you will be recognised by the Team Managers. When you go home at the end of a shift, it feels good to know you have achieved.
How are team members recognised? If you do a good job, doors open for you. I started on an agency contract last year and was given a permanent role with M&S this year. Also, when you've really gone the extra mile, you are rewarded with a golden ticket – I have 6 so far. It motivates me and others to achieve while they are here.
Finally, how do your feel about your job? I want work to somewhere that I enjoy my job, and I definitely do at Marks & Spencer. With my team and the managers, it feels like a family. And I am still learning and want to do more. Who knows what I can achieve in the future?