11th September 2020
Managing the Heartbeat of the M&S Online Clothing and Home Business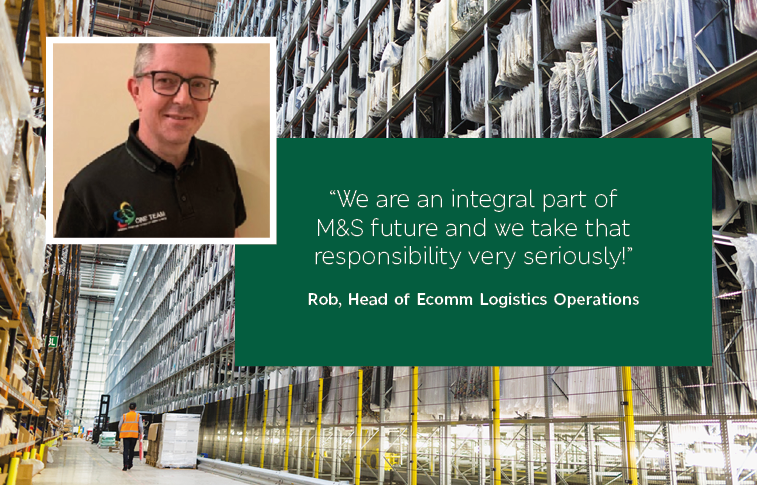 Logistics and Supply Chain is going to become even more important in the life of our business, serving our customers in new and innovative ways, where and when they want it.
As the Head of Ecom Logistics, Rob's role is to ensure that the 3000+ colleagues in our Castle Donington Distribution Centre work safely to deliver M&S products either via stores or direct to their home. It's a job where every day really is different when it comes to challenges they face, but one which is in safe hands given Rob's 26 years of experience with our rapidly transforming business.
"We have to keep a 1 million square foot highly automated site at optimum levels of service at the lowest possible cost. Teamwork, communication and an unrelenting focus on our customer keeps us honest – we are constantly learning and evolving what we do and how we do it!" says Rob.
Having joined M&S from another retailer, simply because he wanted to work for the best in the country (why thank you!), Rob has always felt really supported and encouraged by his colleagues during his time with us and he's proud to be a part of a team that really excels at what they do.
"All M&S colleagues are focused on our core behaviours of being 'all in for the customer' 'owning your part', 'talk straight and 'make every penny count'! This means we pull together ALL of the time. However, the recent COVID crisis has seen us at our best - truly finding new ways to operate and support each other and the customer. I'm not bragging when I say that all through my career I have been part of a brilliant team and worked with some incredibly talented people!"
"We currently manage the heartbeat of the M&S online Clothing and Home business in Castle Donington – our Ecom business continues to grow apace and we must accelerate our service to ensure we match and exceed our customers needs. I am part of a wider team from buyers to sellers who are completely focused on delivering our part of the M&S transformation under the 'never the same again' banner. We are an integral part of M&S future and we take that responsibility very seriously!"
Challenging projects can be really rewarding!
With such a varied career, it's not surprising that Rob has worked on his fair share of projects that have had a big impact on the business.
"Two of the most interesting roles I have worked on were the 'People System' HR Transformation introduction to the business and the delivery of a 'single tier' Supply Chain and Logistics strategy. Both were very different but designed to ensure we operate more effectively at lower cost to better serve our customers. The people system included a new 'time and attendance' and rostering system that put the ownership of colleagues working time in the hands of their line manager rather than via a HR admin team – this meant every colleague could now access and manage their payslip, holiday booking and working hours via an online portal – this was a huge step for line managers and 70,000 colleagues alike."
"The logistics single tier strategy is designed to reduce the numbers of Clothing & Home distribution centres in use to make the business more efficient and responsive to trade. This was a huge undertaking but one that taught me lots about how supply chains and logistics operate, speed of service to our customer and the complexities of stock movements from factory to store!"
Rising to any challenge
During the current COVID pandemic our customers have been reliant on M&S doing a great job in serving them in store and online and Rob has led his team over every hurdle they have been met along the way.
"During the current COVID pandemic our customers are reliant on us doing a great job in serving them in store and online. In Castle Donington we have already smashed last years peak volumes 3 times in the last 3 months, but doing this whilst keeping 3000+ colleagues safe and engaged is the biggest challenge we face.
For Rob, he feels very fortunate to work in a business where customer and colleagues are genuinely at the heart of what we do and he receives huge support from across the business to keep operating.
"Co-ordinating the volume of stock that the site needs to pick from and then flowing it through to the customer is both an art and a science – I work with a great team who plan and manage this daily and are totally committed to delivering a great service."
Proud of the part he has played in the M&S journey
There's no doubt that Rob has achieved a lot so far in his career, and it just goes to show the breadth and scope of opportunities you can grab when the passion, drive and support from your team all lines up.
"My career is full of achievements – joining Warrington Gemini as an Assistant Manager, my first Store Manager appointment in Newbury, my first Head of Region Appointment in the Midlands, completing the People System transformation, opening up Welham Green DC and now being appointed the General Manager of Castle Donington. I can honestly say I have loved every role I have done in the business and I have had every opportunity to develop and grow as a leader!"
Career advice for anyone wanting to join M&S in Logistics
Castle Donington Distribution Centre is at the heart of the online M&S Clothing and Home business and we are constantly looking to develop a diverse array of talent. For Rob, the most important attributes are being genuinely customer focused, energised and positive – because we have plenty of challenges that need to be overcome every day!
"We can teach the technical aspects on site but look for and seek out those with a real drive regardless of background! Donington is a great place to work and we are building something special here to help support the transformation of the wider M&S business."