9th February 2020
Introducing The Ombles... and their Lead Product Developer, Katy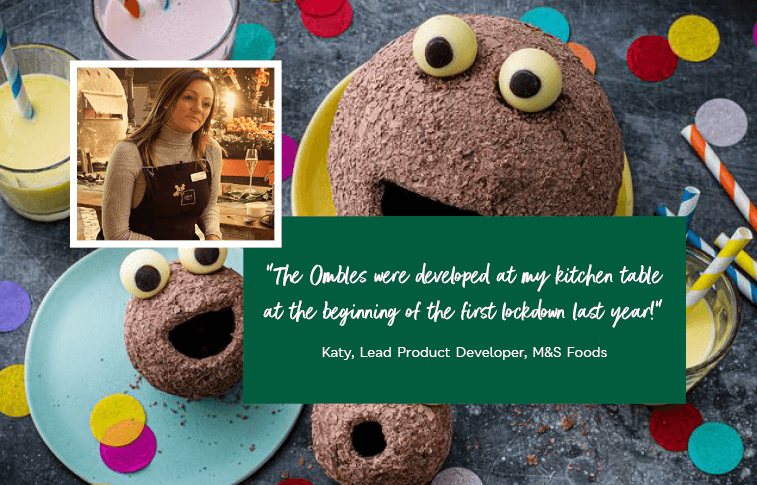 From Percy Pig to Colin the Caterpillar, we know how to win the hearts (and the sweet-tooths) of our customers here at M&S, and this month we introduced a new member to the family – The Ombles!
These chocolate treats are loveable cheeky characters who are a bit odd, a bit cute and great fun for all of the family.
So how did these little monsters come to be?
"The Ombles were developed at my kitchen table at the beginning of the first lockdown last year!" says Lead Product Developer, Katy.
"I was working on Easter 2021 and the key to a good Easter range is ensuring we have something for everybody – young, old, male, female and everybody in between! We had some great characters in work such as Walter the Sausage Dog, and of course Percy & Colin. But I wanted something for older children and also for adults – something that was quite cool, a bit quirky and we're always looking to be a bit different but still accessible! So that was my challenge!"
After extensive research on Pinterest, Instagram and various blogs, Katy decided a friendly monster could be the way to go!
"I wanted it to look furry hence rolling it in chocolate shavings and it needed a key characteristic, hence it's googly eyes! I discussed it with our supplier who I felt were best suited to making it and she then briefed the mould supplier to come up with some visuals. It was important to have different mouth shapes as this gave the monsters different characters. This then developed into the large and small sizes. Once we refined the samples I knew I had achieved my goal as I had them on the kitchen table and my 2 teenage children and my husband all walked in and said they were really cool! Our amazing brand team did the rest!"
What a result! And great to get some insight into the role of an M&S Food Product Developer, which as Katy explains is a real team effort.
"As a product developer I am responsible for briefing the suppliers, coming up with the ideas, working an idea through from an initial concept, into an actual product we can sell, and most importantly ensuring it is of the best quality our customers expect. I work as part of a much bigger team and the reality is I don't do it on my own! I work very closely with my Buyer who ensures that my ideas are commercially viable, and she does all the negotiating on cost prices, volumes and any promotional activity. My Technologist is the other person I work very closely with and she is responsible for making sure the product and packaging is safe and arrives in store in perfect condition, as well as ensuring a factory standards are as they should be."
Jobs like Katy's are in high demand, particularly here at M&S as we are known for our boldness in the market – so how did Katy come to her current role?
"I did a Business Studies degree at University and I spent my 3rd year working for a clothing company in Leeds, who supplied high street retailers. It was there I got the retail bug, however I knew I wanted to work for the retailer rather than the supplier! I joined M&S Ladieswear as a graduate trainee which I thoroughly enjoyed, but I always loved food, especially M&S food! The M&S food customer was much younger, so much more experimental and only accepted the best quality - and it was all these reasons that made me apply for a Product Developer role in Foods! I don't have a food background so I didn't hold out much hope of getting it, but to my delight – I did! I retrained for a year and have since worked my way round most of the categories in the food business."
"M&S differ from other retailers because the quality and innovation is the main driver within Foods – it's the reason customers come to shop with us, and as a developer this is a dream! We travel the world (less so this past year) looking for trends, searching for excellence and the ultimate benchmarks. No idea is ever a bad idea and we always start off with an idea, never a price point."
Considering a career in foods at M&S? Katy's varied experience and love for the job sounds like it makes a great choice.
"I have been at M&S for almost 25 years and have worked in many areas which is almost like starting a new job every time. You get to learn about so many different industries and each one is so interesting and different. Every day is different and you really do learn something new every day. It's fast moving and at M&S we lead, never follow."