9th July 2020
Choosing a Please-Everyong Pudding for our Customers is all in a Day's Work for Head of Product, Chris. This is not Just Any Job.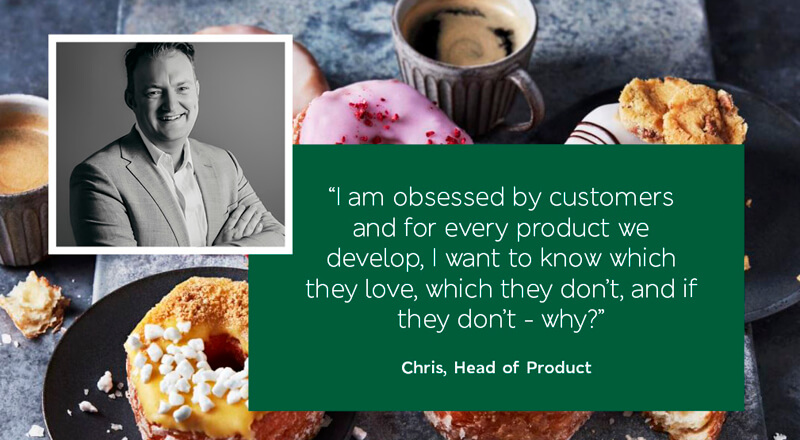 Imagine spending your days obsessively creating the most delicious, best quality food products to truly delight and excite our customers with every bite. A job where no two days are the same and would see you jump from a sandwich tasting session (yum!) straight to reviewing new packaging design for the latest Percy Pig line.
For Chris, Head of Product - Meals, Desserts and Food on the Move - that dream job has become a reality.
"I had ambitions to become a chef from the age of 9. I remember baking a cake at school and was so proud of my achievement. I couldn't run home fast enough to show my mum what I had made. The anticipation as she took her first bite and the joy I felt when she declared it a delicious triumph is something that I wanted to experience all the time. I wanted to make food that made people happy and create memorable moments for them. My ambition was to have my own restaurant one day doing just that."
With many family members working in M&S over the years, our stores have always been a part of Chris' life, with childhood trips to his local a real standout memory.
"It was ingrained in my brain from an early age that M&S food was the best and a trip to the local store was always a wonderful treat, seeing what was new to try and what I could sneak into the trolley. It wasn't like food shopping elsewhere as everything looked and tasted so good." He explains.
However, it was his Aunt who really inspired him to become a part of the M&S family.
"She worked in Eltham Store for over 30 years and it was her passion and commitment to the company which 'sparked' my interest in joining M&S."
A supportive and encouraging work environment
In his first role, working part-time in Bromley store in the food section at the age of 16, Chris was trained by his colleague Alison on the heart of retail - great shop keeping standards. This involved how to deliver great customer service, maximise sales and understand quality. This, he explains, was an essential foundation and provided him with skills he still uses today.
Chris's love for cooking always remained throughout, and thanks to the support and encouragement of his manager and colleagues, Chris also trained to become a chef whilst working in store.
"The great thing about M&S is that your personal development is also a priority for the business. M&S wants you to succeed and grow and this has been continual throughout my career. Someone once said to me, "the moment you stop learning in a job is the time for you to look for new opportunities". I have never stopped learning and that is one of the many great things about working at M&S Food."
Spurred on by his line manager to attend an internal careers day, Chris's eyes were opened to the range of jobs within our support centre.
"I didn't know how the support centre was structured or the different job roles within the team, so this had never been a consideration for me. Once I discovered the Product Developer role, I found out what qualifications and experience I needed and created a development plan - I WAS going to get that job! I enrolled at university and continued to work at Bromley M&S until I graduated. I was focused on my goal and did everything I could to develop my skills and knowledge."
Delighting people through food
Following his studies, Chris took up a position in the Food Marketing team where he would develop his knowledge of food, customers and the industry and lead on projects like the first ever 'This is not just food' campaign.
Since then, his career has continued to go from strength to strength via various Food Product Development management roles.
"I've worked on everything from whoopie pies to cinnamon buns and American style layer cakes. From Percy's Piglets to Pumpkin Percy and Merry Percymas. From hot cross buns to half and half loaves and gluten free bread and cake. From Smokehouse BBQ Grill to smoked salmon pearls to Christmas turkeys. The great thing about my job is that it's so varied but it's all about the food, it's all about the quality and deliciousness and delighting people through food."
"Nothing beats the excitement you feel when you launch new products in store. Seeing it on the shelves, watching the sales, hearing from customers talking to the press about the launch. That moment when something you have worked on tirelessly for months finally come to fruition is a great feeling and always takes me back to the moment I baked that cake in school."
Not surprisingly, one of Chris's favourite projects was creating a new range and look and feel for our in-store bakeries in 2011. This involved extensive research with customers, reviewing and benchmarking competitor ranges, working with specialist bakers to understand how to create the best bread, finding new suppliers and creating delicious new recipes.
"A big part of the job is all about setting the highest quality standards and we spend a lot of time making sure we get these right. Our quality is one of the main reasons customers come to shop with us for food, they trust us to always give them the best quality and I never want to let them down. On the bakery project, I had to consider every element from the appearance to the crust, to how well the bread sliced, the appearance of the crumb and of course the flavour. I launched some delicious breads as part of this project, and I am pleased to say that many of them are still available in store today. My favourite has to be the cranberry and pecan bread, delicious on its own, toasted and served with butter or great with cheese."
Everyday is like Christmas!
With the launch date of our Ocado Partnership fast approaching – Chris and his team have been busy reviewing our ranges to make sure that we have every product the customer expects to buy, at the right price and of course with the M&S quality.
Next up is Christmas!
"Seasonal events have been a big focus for me over the years and believe it or not everyday is like Christmas! You are working on it throughout the year whether it be researching, planning, developing ranges, reviewing packaging, launching products and reviewing the competition. It's a big responsibility delivering each event, creating those innovative, new and delicious products for customers to buy whilst making sure that you are always ahead of the competition. M&S Food makes Christmas for many of our customers, so we always want to give them the absolute best. I am obsessed by customers and for every product I develop, I want to know which they love, which they don't, and if they don't - why? It's critical to understand why some may have been more successful than others. It's all part of the ongoing learning process and our relentless desire to aim higher."
Challenging each other and pushing boundaries is key
Just like any other team, the recent lockdown period has presented its challenges – but Chris has been inspired by his colleagues, line managers and leaders in the business and the way we have all found new ways of working.
"There is so much knowledge, experience and expertise in the M&S Food team that everyday you learn something new. We challenge each other and encourage each other to push boundaries. This has certainly helped me to grow and develop throughout my career. The moment you get into your comfort zone is the moment you stop developing. I am extremely proud to work for M&S food, to be part of the M&S family and to have had the privilege of working with the best people in the food industry."
Career advice for anyone wanting to join M&S Food
"To succeed in product development at M&S Food you need an obsession with quality and a relentless drive to keep going until you reach the very best. You have to understand the customer, product development should always start with them and their needs, combining what they want with creativity and imagination. Of course, you must live and breathe food… I am ALWAYS thinking about it. And, you need to love the brand, but really, what's not to love about M&S Food?"
Check out our opportunities in M&S Food today!
Nothing take your fancy or not ready to apply yet? Join our Talent Community to be the first to hear about new vacancies and our latest news.