1st April 2021
Women in Digital & Data Award at M&S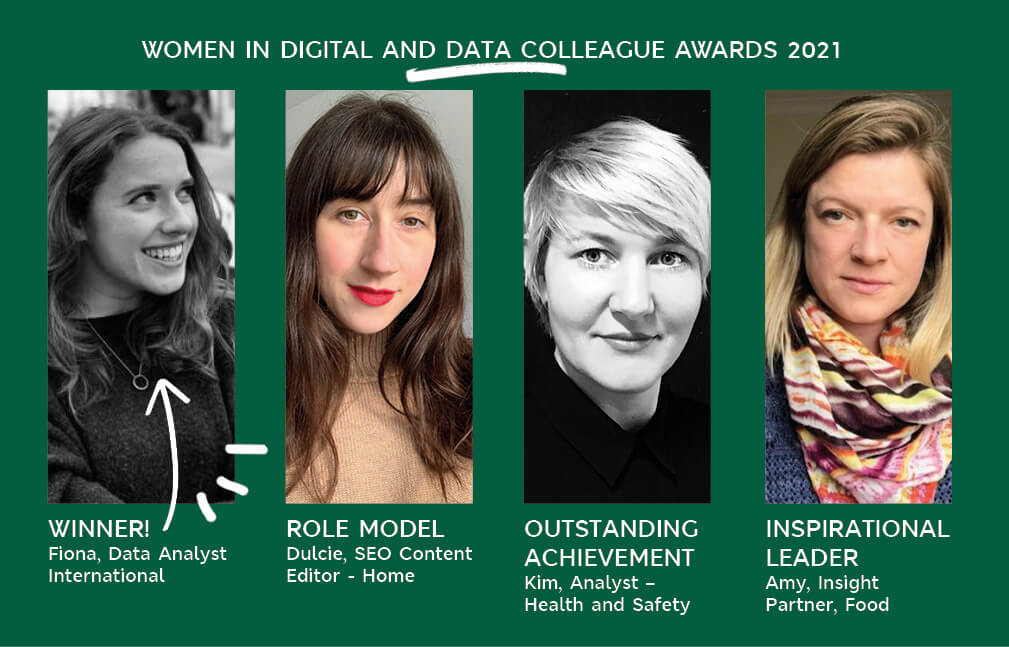 Women now make up 43% of our data talent at M&S, but we want to go further. We're putting digital and data at the heart of our operations and it is vital we have a diverse pool of talent in data roles so that we can represent and best serve our customers.
We have been proudly celebrating our female talent each year with our very own 'Women in Digital and Data award', and this year we were blown away by the response with a record number of nominations from colleagues.
The very worthy winner was Fiona Paton, who works as a Data Analyst in our International team. Fiona stood out for using her data skills to support the delivery of the International strategy and role modelling great data behaviours with a curiosity and passion for finding answers.
She brings huge passion and drive to the world of digital and data and is self-motivated to take ownership of insight from ideation through to delivery. There's no doubt that Fiona will play a key role in the growth aspirations in International with her support to the data strategy.
Well done Fiona!
With so much talent to choose from, three more of our colleagues received a special mention for their contribution to the digital and data transformation within the business.
Dulcie Emerson, Content Editor – Home, was recognised as our Women in Digital and Data Role Model. One of her nominators explained why Dulcie's passion for data really captured the judging panel.
"Dulcie's got a genuine and unmistakeable passion for data and SEO in particular, and never brings a bad mood to work. It's always a joy knowing you need to go to Dulcie for information or know-how, because you know you're going to come away having learned something, and had fun doing so."
Kim Bradley, Analyst – Health and Safety, was awarded for Outstanding Achievement. In her nominations, it was highlighted that Kim makes it her mission to come up with new data solutions which mean that the teams she works with get the best possible reporting solutions.
"I have never known anyone to be so excited by data. Kim makes it her mission to learn new ways of coding to ensure that we always get the best reporting solution. Not only is she an analyst but also a key technical support in Fire, Health, Safety & Compliance."
Amy Van Drempt, Insight Partner, Food, got great recognition as an Inspirational Leader.
"Amy is well known for being incredibly approachable, easy to work with and is always up to any challenge that comes her way! She brings to life "why are we doing this?" and supports the journey to solutions for big strategic decisions by creating confidence in data and hypothesis generation with her exceptional skills, knowledge and leadership," her nominator explains.
"Every encounter I have with Amy leaves me enthusiastic to progress my work, she is a great sounding board for working through the right approach to take. Amy is not only knowledgeable, but willing to share that knowledge & experience. Whenever I meet with her, I come away energised & inspired."
We truly believe our people can be a source of great competitive advantage and our ambition is to make M&S the most engaging, involving place to work in UK retail. Via our partnership with Women in Data and our work with Code First: Girls to provide a free 8-week course that teaches local women the basics of coding – we are really proud to help drive change and improve the representation of women throughout the Data community, within M&S and beyond.