3rd January 2017
From Graduate Trainee to Head of Customer Service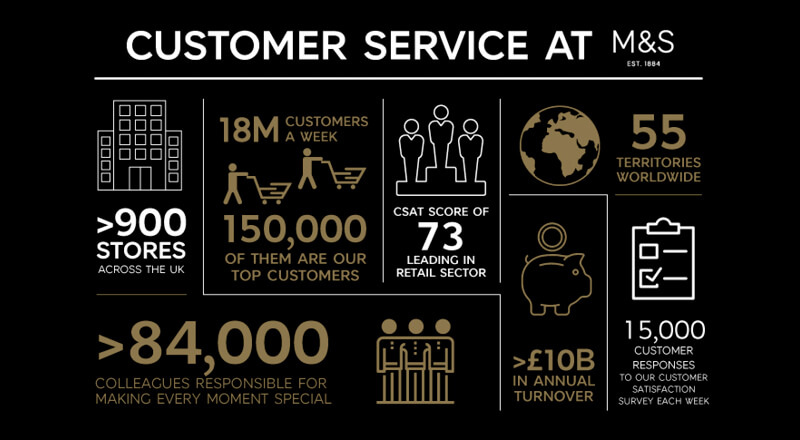 Jo joined M&S as a Graduate Trainee back in 1989. 28 years later, she's still with the business and has risen to the heights of Head of Customer Service. This is how she got there.
"I've covered quite a lot of ground at M&S. My first roles post-training were as Assistant Managers in a number of our stores across London. My next step was into our International Franchise Group; I spent five years there in all and what an experience! I loved the role. It's core focus was working alongside our partners to grow our international presence. So not only was it high profile; it had a tangible, visible impact too.
When I came back to the UK, I managed our Kensington and Watford stores initially before moving on to a series of office roles, including Store Operations and Change Management. All of this was great preparation for the Customer Service role I'm in today. I joined the department in 2005. Today, I'm proud to say, I've built the function to the point where it's geared up to deliver a great M&S brand experience, across all its touch points.
My ongoing objective is to define and deliver our brand-wide service proposition. This is a massive task. It takes in the service behaviours we need to demonstrate and the service and policies that bring our brand experience to life. There is so much variety in what I do. One day I could be launching a new service, the next might see me tweaking the user journey for an existing service.
The toughest taskmasters in retail customer service are our customers. They expect the best because we've consistently delivered. The 'special' of our service proposition is very much in the detail of what we do. Average just won't do. What we do has to exceed expectations not just meet them. Our customers expect more from us than our competitors; we have to find a way to deliver against this.
Getting it right is a tough challenge but there is no better feeling than helping a customer get exactly what they need. It could be pinpointing that special gift; helping them to feel more confident in a new outfit or exploring a new food range they might not otherwise have tried. Helping them get the most from us and the best for them is a really rewarding feeling; it's very motivating for our colleagues.
Our customers appreciate the extra effort we make. The personal touch can make a world of difference and, the thing is, it takes very little sometimes. I read a customer email when I was on holiday recently. I emailed her back straightaway to acknowledge her comments and promised one of my team would be in touch – she was so grateful that I'd taken time to contact her.
I'm often asked by colleagues to help find items for customers, especially if they are for an important occasion. A couple of years ago, a colleague was looking for several suits for a wedding. I called the Menswear Director to help get the items and take the pressure off the store colleague. Being able to call on my network is really important.
What our colleagues who work in store do, day-in, day-out, is inspirational. Just reading about some of their wonderful stories gives me so much pleasure. My advice for anyone in store is to focus on the simple things: smile, make eye contact and show a genuine interest to every customer, every day. The best rule of thumb is to think how would you like to be treated.
By making every moment special for our customers, I think we have a knock-on effect to the people they come into contact with. We've influenced their mood, their sense of wellbeing. So it stands to reason this will have an impact on how they interact with others. OK, we might not be changing the world – but we've made theirs better. That's a nice feeling for a colleague to take away."