24th September 2019
Marks & Start - Changing Lives for 15 Years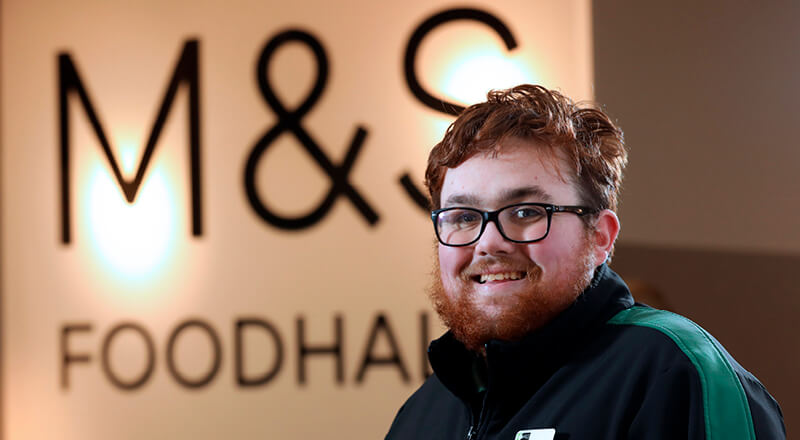 In 2004, M&S launched the Marks & Start employability programme – driven by a desire to help disadvantaged and disabled people who face barriers to employment. Fifteen years later, we're proud to have supported around 20,000 people through training and work experience.
We work with three programme partners. Remploy helps people with disabilities, and 25% of those taking part in Marks & Start are registered as having either a physical, mental or learning disability. We value equally our partnerships with The Prince's Trust, which helps those aged 16 to 25; and Business in the Community, which supports those who are homeless or at risk of homelessness.
Following pre-placement training from a charity partner, participants spent 2-4 weeks on a training placement in one of our stores or offices. They are then supported post-placement by our partners to maximise their prospects of employment. If they show real aptitude, they can be offered a vacant role in any store within six months without having to apply or be assessed.
Some 50% of those who complete the Marks & Start programme find employment with us, adding to our diversity, or with another company within 13 weeks. For many, Marks & Start has proved to be a life-changing experience, with 90% of those taking part saying that the programme has helped them to improve their confidence and enabled them to find work.
Jamie is one of them. After dropping out of uni, and being nervous at interviews, he thought he would never find a job. Now he is Section Coordinator at our Armagh store.
"I was approached by a Prince's Trust advisor who said my skills matched what the Marks & Start programme was looking for," he told us. "I applied and as soon as I was offered a place, I jumped at it. That was five years ago."
Jamie was offered his current role after excelling in his placement with the Food team – but his ambitions don't stop there. "M&S has given me my first step on the career ladder and now I'd like to work my way up," he says. "The programme has given me the confidence that I can really make something of myself. I'm determined to seize the opportunity."
If you would like to follow in Jamie's footsteps, use the links provided to contact one of Marks & Start partners and find out more.