30th September 2019
Changing And Investing To Meet Customer Expectations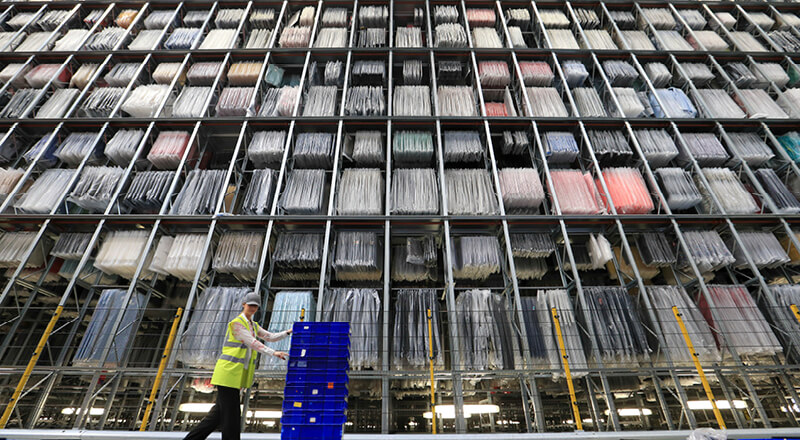 Packed with the latest technology, and processing 2 million orders every week at peak, our Castle Donington Distribution Centre has always been a pretty impressive facility. Now we've added a brand-new mezzanine area to our North Leicestershire site as part of a £15m investment to make it even bigger and better.
It's a great example of how we're transforming to be all in for our customers. More and more of our customers shop online – 22% of our Clothing & Home products are now bought this way – and Castle Donington makes sure they get what they want when they want it. The mezz, as we call it, will allow us to store around 1.6m more items and despatch a further 74,000 every day to our online customers.
"We are continuing to grow our online sales, and the opening of our new mezz will ensure we continue to provide exceptional service for our customers," said Sally, Recruitment Manager at Castle Donington.
The mezz really has to be seen to be believed. Imagine a standalone warehouse within a warehouse, made up of five floors, sitting in one of three on-site chambers and covering 245,000 sq. ft. of space! While most of Castle Donington is automated, the mezz will be a predominantly manual pick, pack and despatch operation – and our online pickers and packers are already loving their new, modern workspace.
We've built the mezz in record time and it's been a great effort by all involved to get it open in time for Christmas. Needless to say, this is our busiest time of year and online orders go through the roof. That's why we've already started hiring loads of seasonal colleagues who can help us pick and pack orders and prepare deliveries. "We're working with partner Staffline to recruit seasonal colleagues who play an incredibly important role in creating a magical Christmas for M&S customers," said Sally.
If you're interested in being part of our team, visit staffline.co.uk/jobs/marks-and-spencer-plc