1st February 2022
Celebrating Lunar New Year at M&S
Many of our customers and colleagues are today celebrating the start of the Lunar New Year. The beginning is symbolised with the first new moon of the lunar calendar, and ends on the first full moon of the lunar calendar, 15 days later.
Around 10 days before Lunar New Year, houses are thoroughly cleaned to remove any bad luck that might be lingering inside; a custom called "sweeping of the grounds." Traditionally, New Year's Eve and New Year's Day are reserved for family celebrations, including religious ceremonies honouring ancestors.
Lunar New Year also marks the transition between zodiac signs: 2022 is the year of the Tiger; 2021 was the year of the Ox. Our colleagues Zurinda, Laura and Vivian have been kind enough to share with us how they're celebrating below.
Zurida's Story
I left Singapore to work overseas 16 years ago. In those years, I have lived in the Middle East and now in the UK. However, no matter which part of the world I am in, I have always made sure that we celebrate the significant cultural events that I grew up with. As a child, we celebrated Lunar New Year, Eid, and Deepavali. These festivities revolved around family, friends, and food – three essential ingredients of any great celebration.

Lunar New Year is usually celebrated in January or February. It involves gathering with family and close friends during the first 15 days of the Lunar New Year for a meal and partake in tossing the 'Lo Hei' salad, which is a tradition in Singapore. The tossing of the salad represents tossing up a good fortune, thereby setting you up for a prosperous year ahead! There has not been a year where I don't do the Lo Hei tossing. These days I do it with my kids, who are learning about their Singaporean heritage. My children love the Lunar New Year festivities, not just because of the delicious food, but also because they get red envelopes from their family and friends, which contain money! They use the money to buy treats.
Here are a couple of pictures of me celebrating Lunar New Year with my lovely M&S International teammates and another with family and friends preparing to toss the Lo Hei salad and one of the salad itself.

Being half Chinese, Lunar New Year is a holiday as big as Christmas for me. I grew up in Singapore, and every year we would celebrate the Lunar New Year with family and great food.
The celebrations always start with a reunion dinner on New Year's Eve, where the family would get together and eat. This signifies the start of our family traditions, and we would always start with Lo Hei Yu Sheng. This is the tossing of a special raw fish salad, a tradition mainly found in Singapore or Malaysia. The idea is that the higher you toss the salad, the more prosperity the next year will bring you and your loved ones.
When I was a child, we would also have a traditional tea ceremony on New Year's Day. We would offer tea and oranges to our elders. In exchange, they would give us hong baos, which are red envelopes filled with money.
In Singapore, people also invite work colleagues, friends, and their families to their house and wish each other good health and wealth in the new year. The most exciting part of having so many guests was doing the lion dance. The loud noise of the drums and the acrobatics of the lion dancers always feels so special and really symbolises the festivities.
Now, living in London, I don't always get the chance to take part in all the same traditions. I'm mainly giving out hong baos to the kids rather than receiving them. However, we always ensure that our Lunar New Year is still spent celebrating with family, friends, and food.
Below are some pictures to show you my celebrations through the years.
Gong xi fa cai, everyone!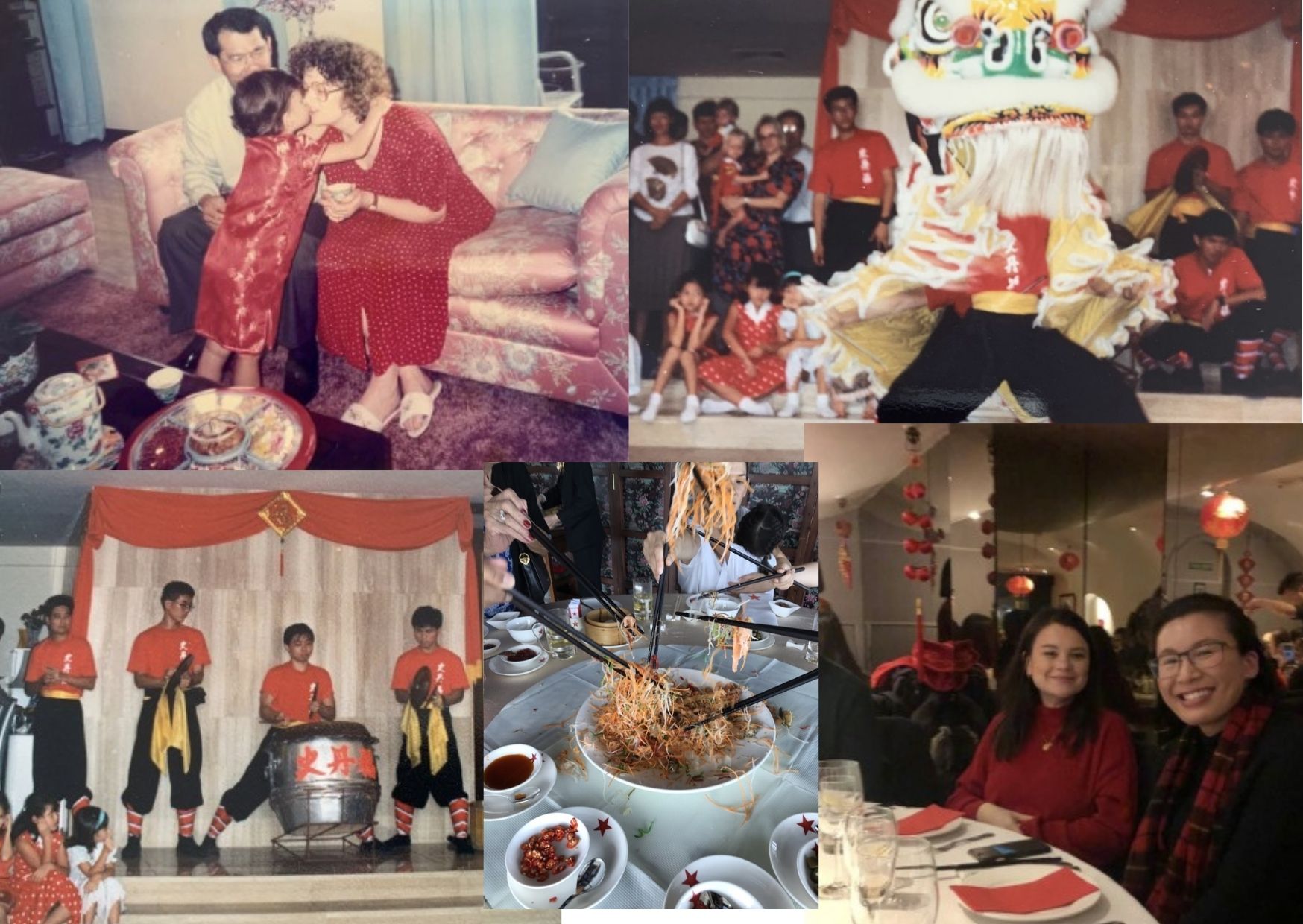 Lunar New Year is my favourite and most important celebration in my household! It's a great opportunity for families to unite and spend quality time together. People typically start preparing for the festival two weeks before as there are so many things to be done ahead of the celebrations.
My favourite part of the preparations is shopping! One of the oldest traditions as part of the festival is buying new clothes, and bed linen for the year ahead. This is symbolically in line with many other aspects of the festival, which emphasize change and new beginnings. When I was a kid, my parents would let me choose long dresses to wear on the day, and I felt like a princess.
We also prepare candy boxes at home, red envelopes filled with money, and get gifts for relatives. Besides shopping, we also need to do a deep clean of the house. We sweep out bad luck and welcome fortune into our homes by cleaning. Our homes
are decorated with red banners and fresh flowers.
During the Lunar New Year, there are many do's and don'ts that we must follow to start the new year in the right way. We believe that the way you start the year is the way that you are going to spend it. For example, we don't do any cleaning during the first three days of the new year so that we don't wash away the good fortune. We also can't cry or wear no black and white clothes because it will bring bad luck if we do.
When all the preparations are done, it's time to have the reunion dinner, which takes place the night before the Lunar New Year. It's one of the most important meals for Chinese families. Big families of several generations sit around the table and enjoy food and time together. The dinner typically has enough food on the table to feed a whole village. There are many symbolic dishes that most families will prepare.
The first three days of the Lunar New Year are bank holidays, there're a lot of relatives & friends visiting each other's homes. And In Hong Kong, people mark the occasion with a unique fusion of modern fun and ancient customs. There are night parades, very beautiful lunar near year decorations in shopping malls, spectacular fireworks, lion dances, and horse racing.
When I was a kid, my favourite part of Lunar New Year was having as much food and sweets as I wanted. As there are many people visiting your home, they all bring food with them. Popular foods include turnip cake, crispy pastry dumplings, new year pudding, sesame cookie balls, Taro cake, glutinous rice ball with red melon seeds!
And the second thing that made me very excited about the Lunar New Year when I was a kid was receiving red envelopes filled with money from my relatives. Traditionally the red envelopes are red and gold, which signifies energy, happiness, and good luck in Chinese cultures. The Traditional red envelopes are often decorated with beautiful Chinese calligraphy (with family surname) and symbols.
This year – is the first year I am not in Hong Kong and will celebrate Lunar New Year in the UK. Though I couldn't celebrate the festival with my beloved parents in Hong Kong, I am lucky enough to have many Hong Kong friends around me in the UK. We made Turnip cake together and had a reunion dinner in a Chinese restaurant! I'll also visit China Town in London.