5th February 2020
Apprenticeships Are A Great Option To Kick-Start Your Career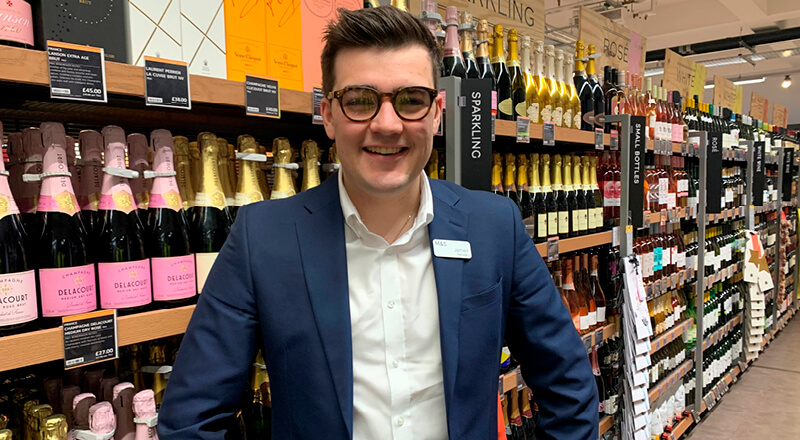 You wouldn't have guessed that James only joined M&S on the School Leaver Apprenticeship Level 4 in September 2018 when you look at all he has achieved.
Not only has he completed all of his Section Manager and Commercial Management training roles on the programme, but he has successfully supported our Business Christmas Conference in October, worked as a Project Manager on the ROI Brexit Programme and has now been appointed to his current role as a Manager in our Norwich store.
Choosing to do an Apprenticeship was certainly the right move for James as it encouraged him to progress his career at a pace he was ready to – and earn good money whilst doing so.
"Before I worked for M&S I worked in sales with limited career progression. Doing an apprenticeship with the business has given me a drive, determination and goal to forge a successful career within the company."
"My apprenticeship has provided me a career and not just a job. Coming out of school I had deferred a position at university. Having now done the apprenticeship it was definitely the correct decision for me! I've been on a scheme as good as graduates get and definitely progressed much faster than if I had gone to Uni," says James.
My apprenticeship opened a door to whole new possibilities
Thanks to his apprenticeship, James has found that he has been given a wide range of responsibilities which in turn have afforded him the opportunity to make a real impact in our business – particularly during a period of rapid transformation.
"I have really been encouraged to bring new ideas and challenge current ways of working. As the apprenticeship is practical and you learn on the job, I've found that the tangible practical experience really informs my apprenticeship work and vice versa. Opportunities like getting to work on the Brexit Strategy for the Republic of Ireland was a key turning point in realising that I am only near the beginning of my career journey and in fact, my next move could even be within the support centre at Waterside. The possibilities are endless."
Learn more about our Apprenticeships today and how you too can be a part of shaping the future like James.