3rd February 2020
An Apprenticeship Has Enabled Grace To Make A Real Impact In Her Career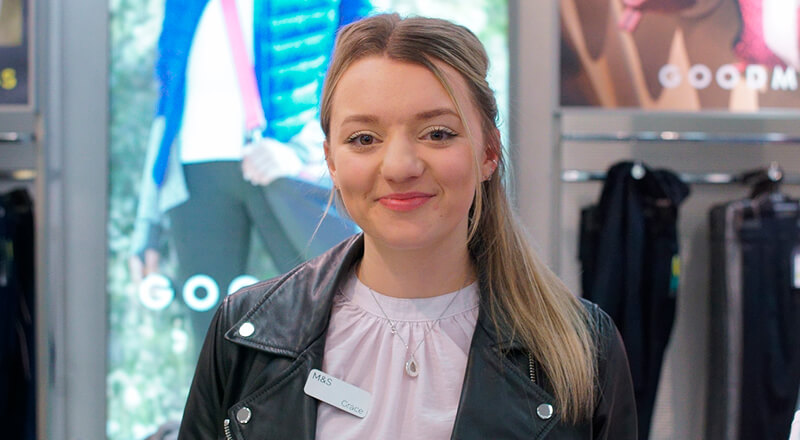 Through her constant hunger to progress, Retail Manager Grace has certainly seen her career 'fired up' by her apprenticeship at M&S. In fact, she will have covered every department in the business up to Commercial Level by Spring 2020 and that's only 18 months in!
"My Higher apprenticeship with M&S has allowed me to personally develop myself and focus in on exactly what I wanted to achieve," says Grace.
"Not only has my apprenticeship at M&S opened up so many opportunities, it's also allowed me to massively grow my networking skills and meet a variety of individuals who each play integral roles within the business."
Growing and developing with M&S
Whilst studying for her A-levels, Grace spent her weekends working as a customer assistant at her local M&S – a role which really ignited her love for retail.

Spurred on by her colleagues to apply for the Level 4 Retail Manager Apprenticeship, Grace was delighted when she was accepted on to the programme and kick started her Apprenticeship journey at our High Street Kensington store.
"I started my training as a Section coordinator and soon moved onto the Section manager role covering Womenswear, Home & Kids and finally the Food hall in my final 2 months there. I went on to put my Section Manager training into practice in our Waterside store (a Simply Food store situated under M&S Support Centre).
"Next up I did an attachment in Hospitality in the M&S flagship store - Marble Arch, followed by an attachment in operations in the M&S Academy Store at Finsbury Pavement. I spent three weeks back at my training store to support a Stock-loss project and then went on to my Foods attachment in the Renewal Store, Clapham Junction. Here I experienced being an integral part of M&S transformation and therefore grew my experience talking to Senior Leaders and visitors. I also supported Recruitment and Christmas Food To Order, both areas I'd never worked in before. This brings me to today, where I am fulfilling my Clothing & Home Attachment in Kings Road, Chelsea."
In her current role, Grace is using her Apprenticeship training and experience to gain a 360 degree understanding in how to trade commercially in this affluent area of London. Impressive stuff!
Grace has now had the opportunity to work with the M&S Early careers team to share her experience of being an apprentice - even going to London College of Fashion University of Arts London, Google Academy, and her own former Grammar school to represent the scheme! And she certainly is a great ambassador.
"I really feel my apprenticeship at M&S has enabled me to make a real impact in my career. Not only has it allowed me to personally develop myself and hone-in on exactly what I wanted to achieve, it also encouraged me to push myself and succeed in whatever steps I want to take next."
Interested in learning more about the exciting Apprenticeship opportunities at M&S? Take a look here.